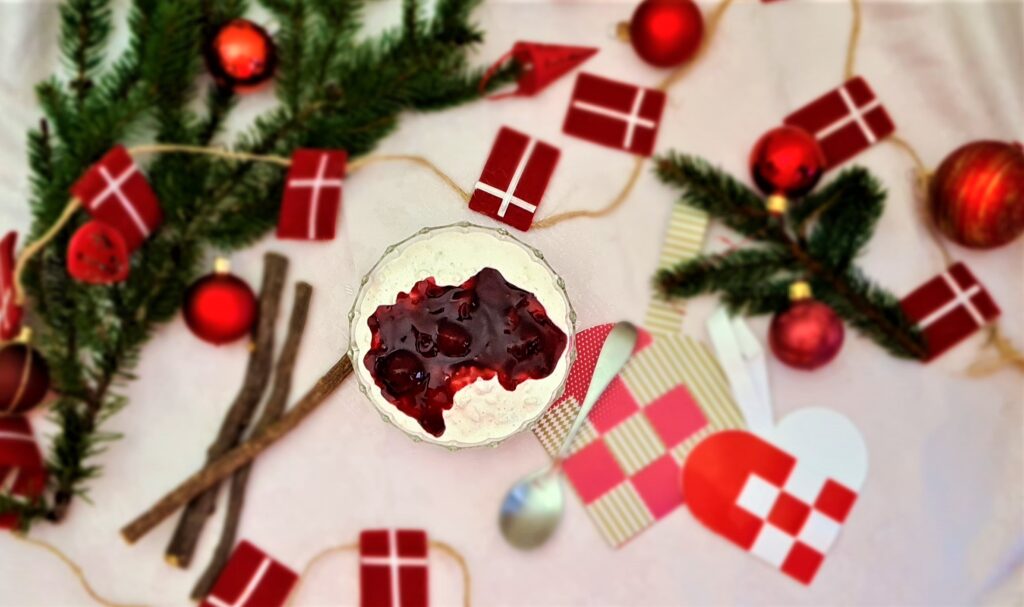 This dessert is eaten as the dessert at Christmas Eve in Denmark (that's when we celebrate Christmas). There will be one whole almond in the dish. The guest, who finds it in his/her dessert gets a present – but they are not allowed to tell that they have it before all the dessert has been eaten. This can be a real struggle if you've eaten too much during the main course.
This year I made vegan risalamande for the first time. I used soy whipping cream instead of normal whipping cream, which works really well. The whole family liked it, especially since it isn't as "heavy" as regular risalamande. However, I added a bit of licorice (which of course you can choose not to) to the dish to give it more taste, since soy cream doesn't taste like much compared to dairy products. This is inspired by my grandmother, who used to cook the cherry sauce with licorice root.
I am already looking forward to next year where I am thinking of either making a variant with coconut or orange.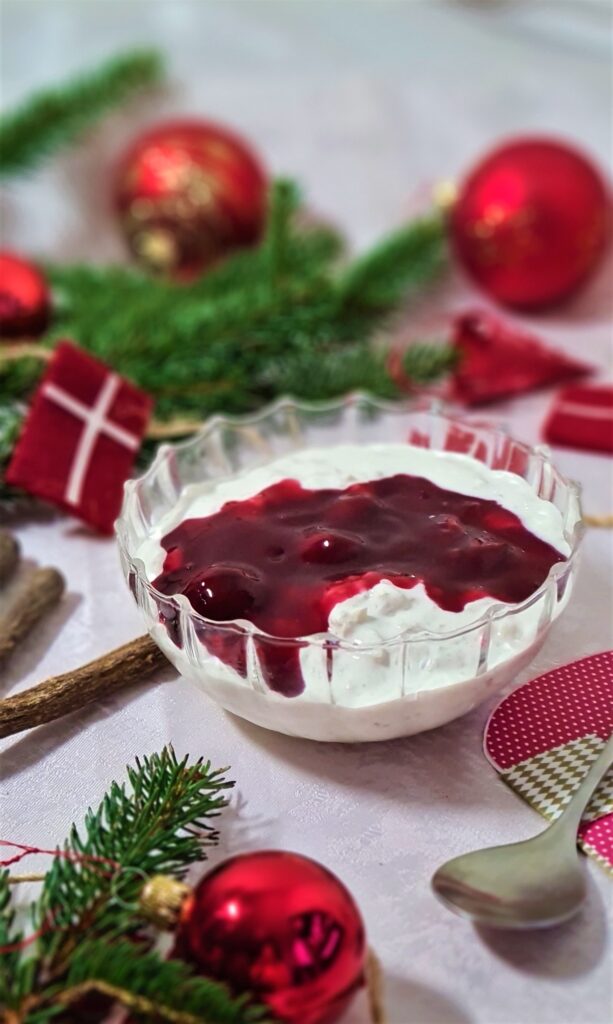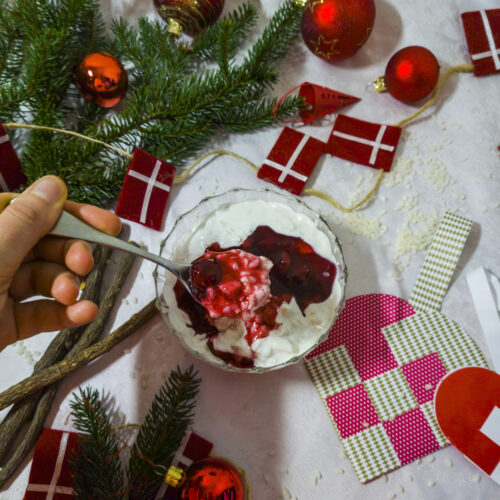 Vegan Danish Risalamande
Ingredients
2

licorice roots

about 10 g

1

l

almond milk

180

g

porridge rice

about 2½ dl

4

tsp

vanilla extract

2

tbsp

sugar

200

g

almonds

½

l

soya whipping cream

½

l

cherry sauce
Instructions
5 days before serving
Soak the licorice root in the milk (this step may be omitted)
The evening before serving
Divide the soft licorice roots in half

Mix licorice roots, milk, rice, vanilla and sugar in a pot with a lid on

When the porridge boils, set it on half heat and continue to cook for about 45 minutes until it has thickened – stir in the porridge every 5-10 minutes

Cools the porridge in the fridge until the next day

Put the almonds in another pot and fill it with water

Boil the almonds until the brown shell has become soft (5-10 min)

Pour almonds and water into a strainer in the sink and let the almonds cool down

Blanch the almonds when they do not burn your fingers

Finely chop the almonds – remember to leave an almond whole for the almond gift

Save the almonds for the next day
The morning before serving
Remove the licorice roots from the porridge

Mix almonds and porridge in a bowl

Whip the soy whipping cream stiff and mix it with the porridge and almonds

Let the risalamande sit in the fridge until it is time to serve it
Before serving
Heat the cherry sauce in a saucepan and serve with the cold risalamande