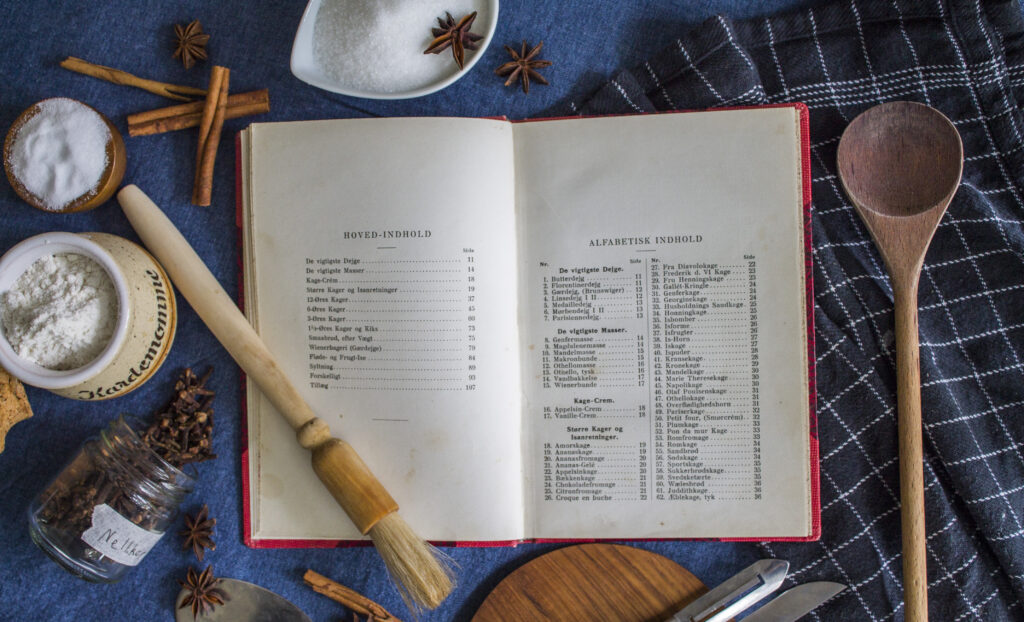 Old recipe books are so fascinating. They say a lot about the time they were written in: What was popular and what the ingredients were for.
I have "read" through a more than 100-year-old collection of recipes from Otto Hansen for large and small households and confectioners. It is from Sakskøbing (Denmark) June 1916. Otto was a pastry chef and he describes in the preface how this is a collection of his best recipes from "the good old pastry shop", in which there are no "new-fashioned" additives such as egg powder, vanillin, etc.
The purpose of reading the book was to get inspiration for new cakes and get insight into how the cakes were back then – especially how the classic Danish cakes were made. And I hope to have time during the next year to try out some of these recipes.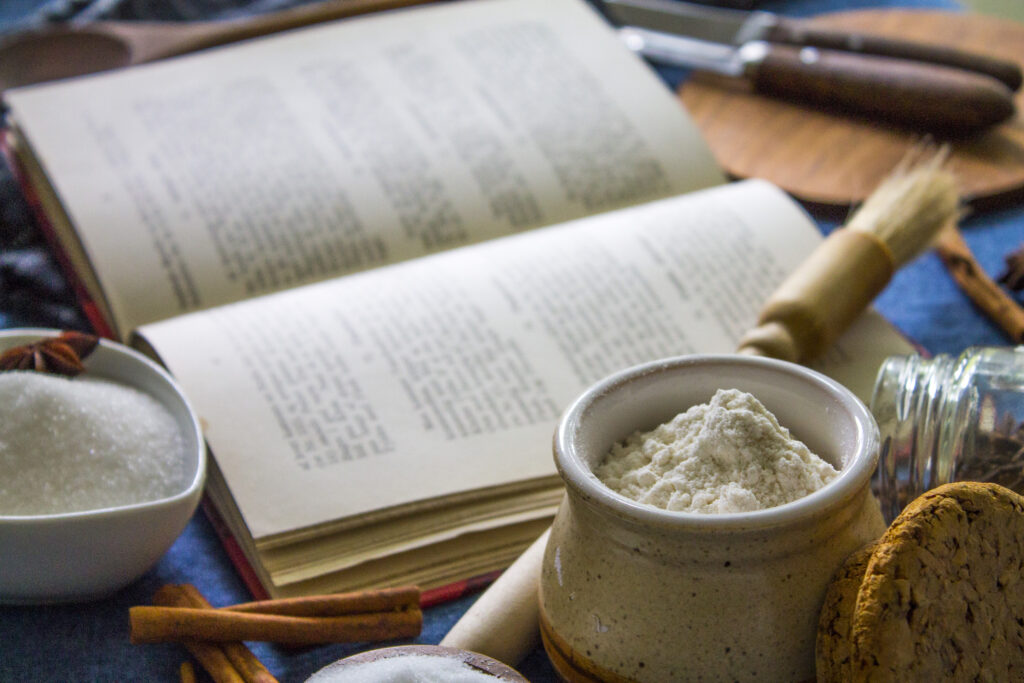 Generally about the recipe book
As the book is over 100 years old, it is written in Old Danish, which is still understandable. There is therefore no indication of, for example, the temperature of the oven and no use of modern white goods such as freezers or refrigerators. In addition, there are no illustrations of the cakes! So there are only the instructions to follow. The illustrations I have made of the cakes might therefore not be accurate for the cakes that are no longer common.
An efficient pastry chef makes a few types of doughs, masses and cream, which are then used to make many different cakes for sale. The book's first recipes therefore describe how to produce these doughs, "masses", and creams. Then it is described how to cook the different cakes with the different doughs, masses and cream as a base. The book's recipes are divided into the following chapters:
Most important doughs
Most important masses
Cake cream
Larger cakes and icings
12-cent cakes
6-cent cakes
3-cent cakes
1 1/2-cent cakes
Småbrød
Wienderbakery ( yeast dough)
Cream and fruit ice cream
Pickling
Various
There is no division in relation to the difference between cakes for certain seasons or events. It is therefore unknown whether, for example, Kransekage was also only eaten at New Year's or Brunkager were only eaten at Christmas.
The cakes reflect the time, since they are relatively simple and do not contain expensive spices, fruits, etc. In general, many of the cakes mainly consist of a basic dough and then some whipped cream/whipped egg whites and a cream/jam. There are many whipped cream cakes in the book, which is similar today, since Denmark today has many types of whipped cream cakes.
Not much fresh fruit is used in the book (except for the recipes for jam). The cakes that contain fruit usually do so through jam. It is assumed that this ensures that the same recipes can be used all year round, also in winter when there is no fruit on the trees. Because jam is an easy and effective way to preserve food. It is mainly the same fruit that is used in the cakes: Raspberries, strawberries, apples, oranges. Many of these fruits grow in Denmark. Besides oranges, which must have been an export item.
In the book there is also a description of different substitution methods for different ingredients. For example, the use of agar agar instead of gelantine in the "artificial jelly" recipe. This substitute is quite interesting, as agar agar can be bought as a vegan alternative to Husblads (gelantine) in the supermarkets in Denmark.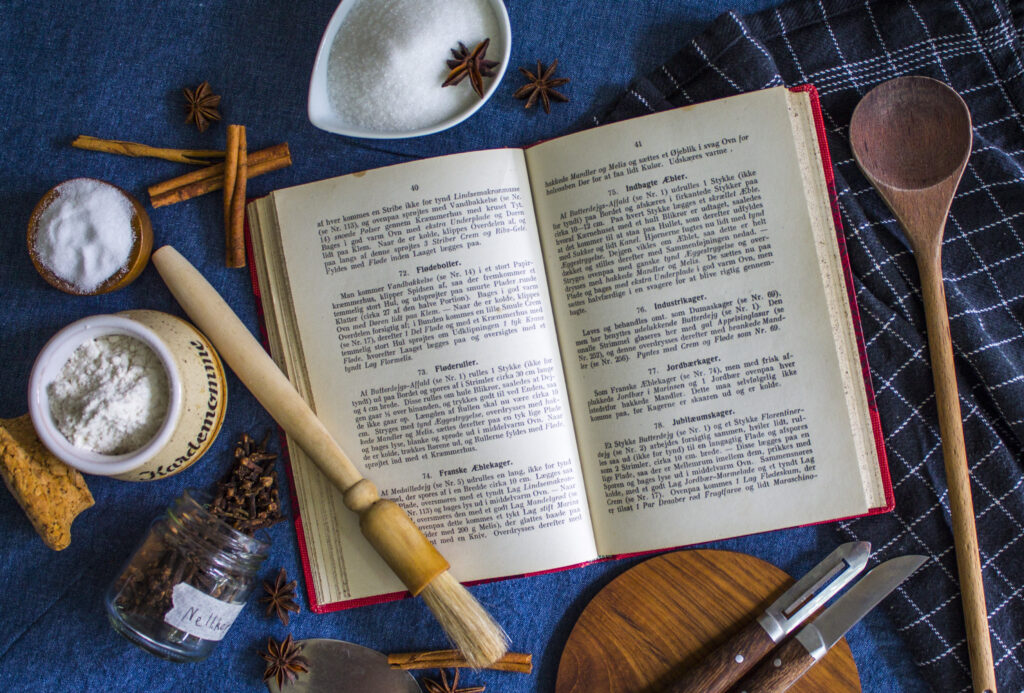 Recipes that are different from today
Flødeboller
Flødeboller today consists of a biscuit or marzipan base the size of a biscuit with an airy foam whipped together from egg whites and sugar on top. The foam is coated with chocolate. However, the definition of a cream bun in the recipe book is a cream puff.
Remonce
The recipe for remonce is largely the same as the one we know today, consisting of (75 g) semi-melted butter and (125 g) sugar ("caster sugar" in the recipe), which is whipped white. Then added a bit of ground cinnamon. In addition, a tablespoon of raspberry jam is added to the cream. However, no brown sugar is used (as is done today). Using raspberry jam in remonce has been the inspiration for my recipe for cinnamon buns with raspberries:
Vegan Cinnamon Rolls
Christmas cookies
There are recipes for several cakes, which I assume are Christmas cakes because they are eaten at Christmas today: Peppernuts, gingerbread, vanilla wreaths, klejner, Jewish cakes and brunkager. However, there are two other varieties of cakes called something with "nuts": Macaroon nuts and lemon nuts. Whether these were actually eaten at Christmas is unknown. I was inspired to make a vegan version of lemon nuts here last Christmas. The recipe can be found here:
Lemon nuts
In addition, vanilla wreaths are made today with a pastery bag and tip, as is also prescribed by one of the recipes from the book. However, there is another version of vanilla wreaths in the book, where the wreaths are flat and they are stuck out with skewers. This has been the inspiration behind the following recipe:
Classic Vanilla Wreaths
Recipes we still know today
In addition, there are also quite a few recipes that we also have today. This applies, for example, to napoleon hats, of which you and I also have a vegan version here:
Vegan Napoleanhats
Interesting recipes
Here is a list of the recipes that I find inspiring and don't seem to have seen today. Most of these recipes are not whipped cream cakes, despite the fact that there are quite a few of them in the book. The illustrations are based on the recipes in the book (which are provided as text only). This list will be continuously updated as I finish drawing illustrations for the cakes.
1. Currant Cookies
These cookies consist of a thin dough that flattens in the oven. Place a few currants (small, slightly bitter raisins) on top. I have already made a modern vegan version, which you can find here:
Currant Cookies
2. Kransekage snitter
This is an inspiring version of the classic New Years cake in Denmark – this version contains raspberry jam and rum glaze! My interpretation of it's look: 3. Nürnberger cakes
These cookies are simple, but containing a bit of lemon oil and cinnamon sprinkle on top. Yum!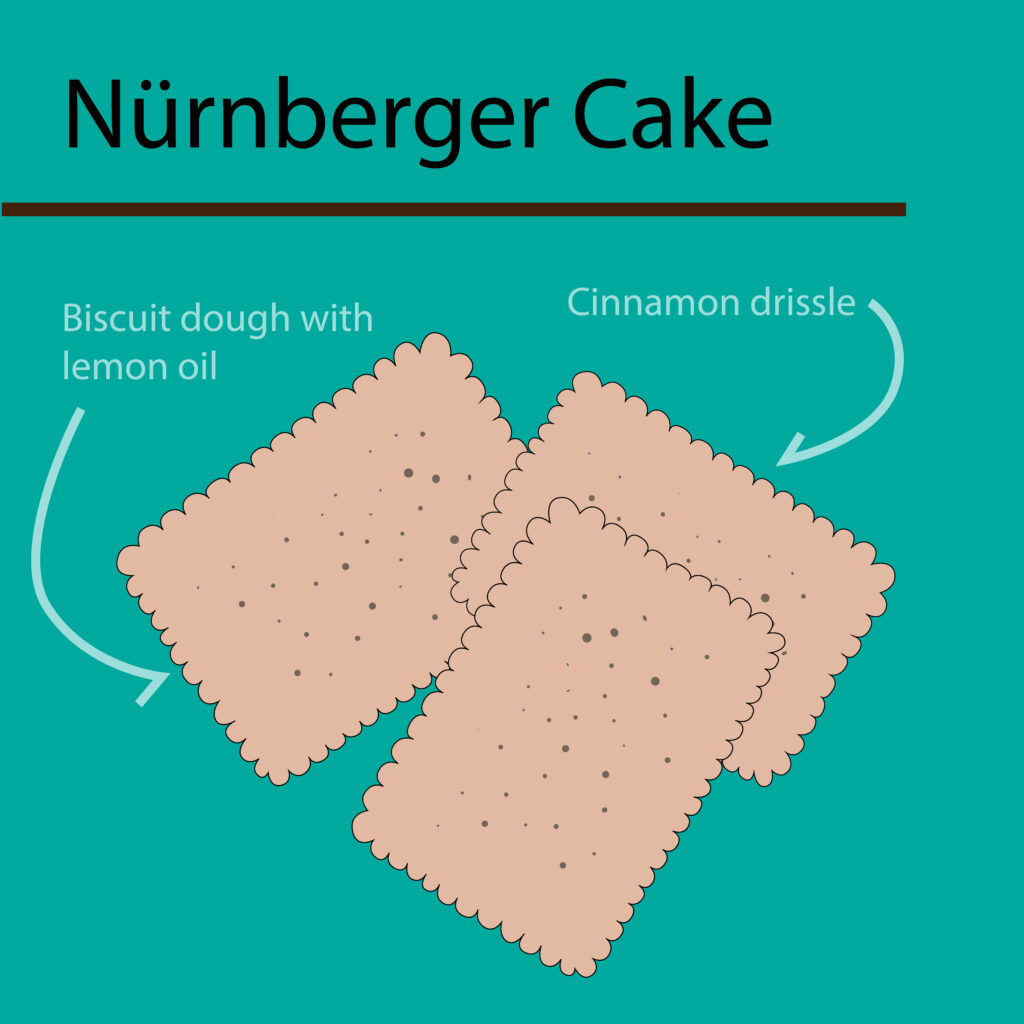 4. Krum cakes (curved cake)
These cakes consist of a fairly simple cookie dough. However, they have a curved shape, which is achieved by placing them on a rolling pin or other wooden pin right when they come out of the oven. Which is pretty cool. 5. Rødhætte (Red Riding Hood)
I imagine these cakes to be the size of a large muffin. They consist of several different scraps of cake batter and raspberry jam with red sugar on top. The sugar sticks to the cake by first brushing jelly over the cake after it has been baked and then sprinkling the sugar on top.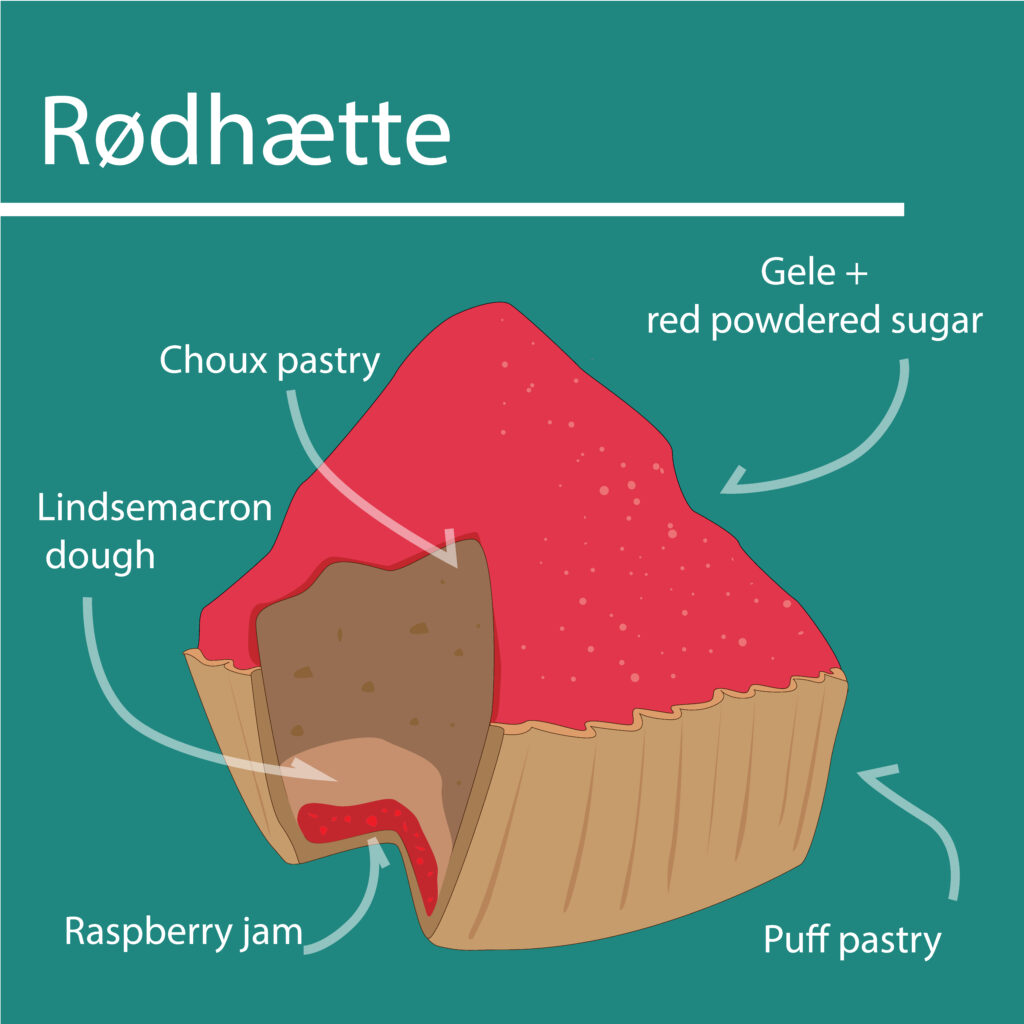 6. Skandinavier
This muffin-sized pie consist of two different types of dough with cream and raspberry jam filling and almonds/sugar on top.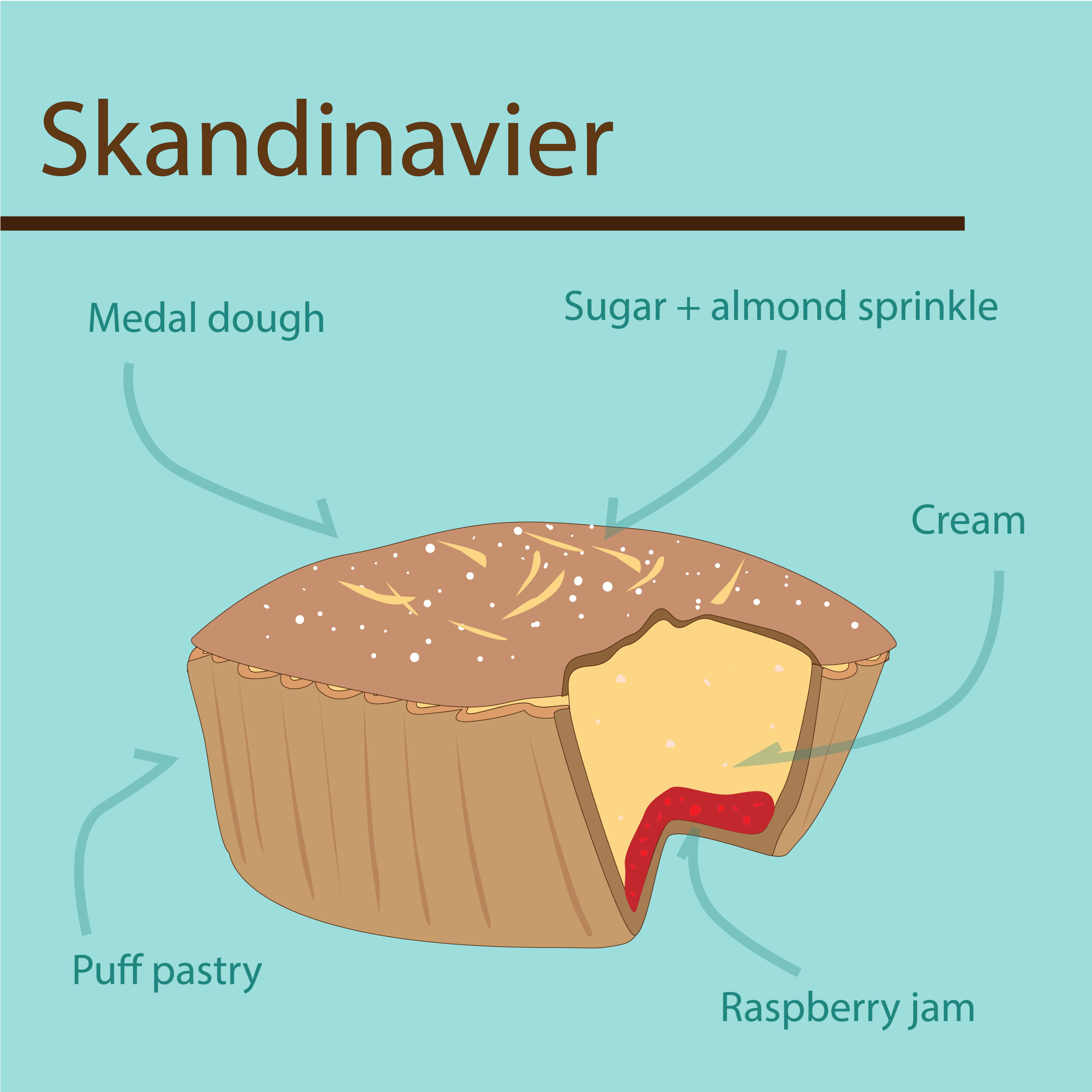 7. Sorento Cake
This cake is quite impressive in the sense that it consists of 4 layers (where three of them are different types of dough!). And then it is topped with a glace with orange flavor and some fruit jelly. And with chocolate frosting on the sides. Yum! 8. Florentinerkage
This cake seem so simple, yet, delicious. And then it is also one of the few cakes in the book with fresh fruit.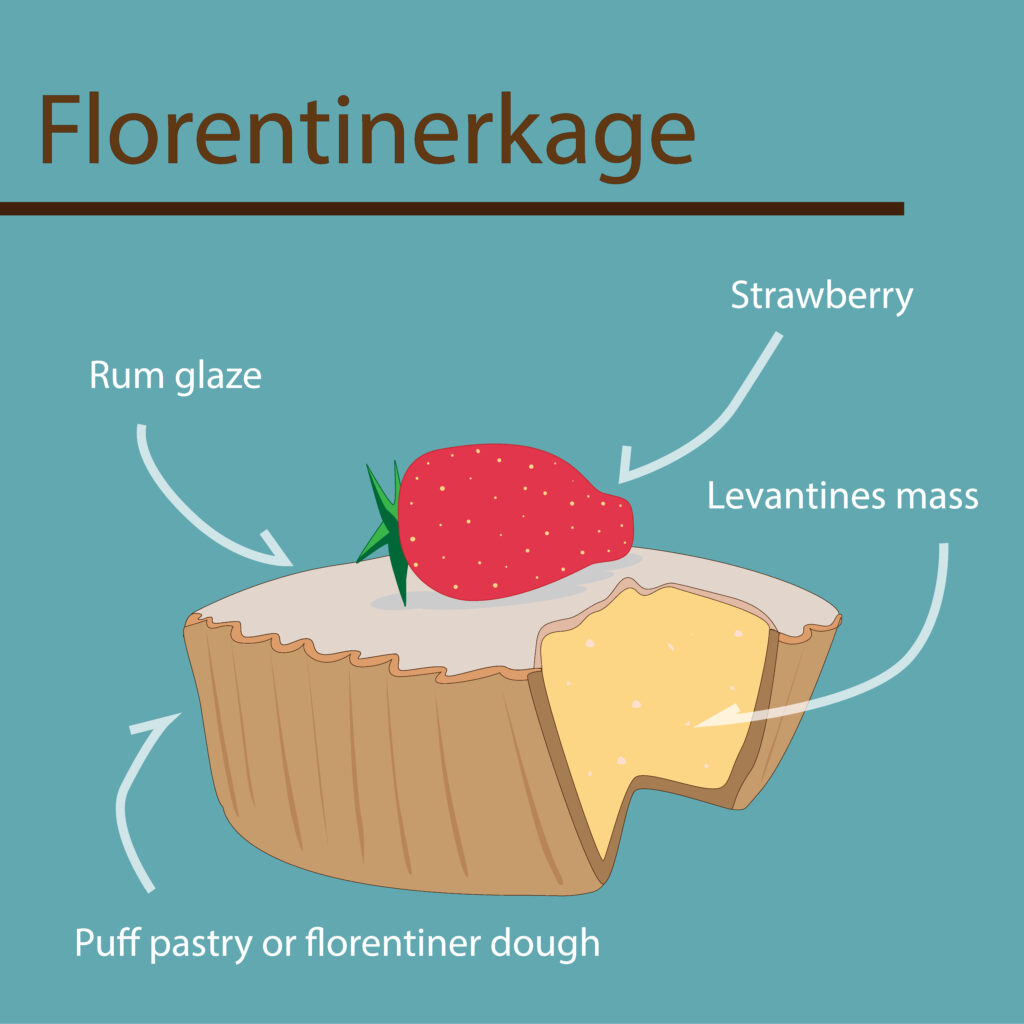 9. Marie Therese cake
Delicious cake with fruity flavors and creamy texture!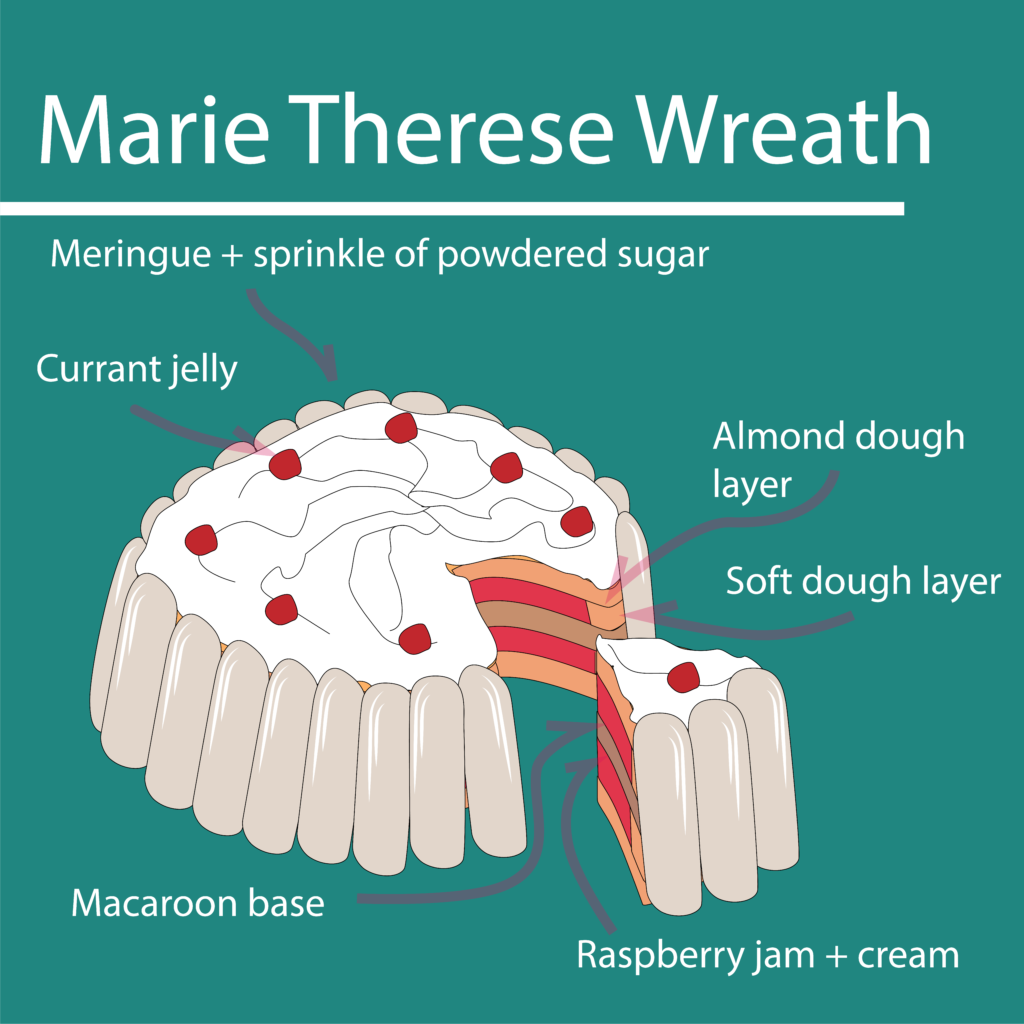 10. Petit four cake
Simple but deliciouse cake with pastry dough and chocolate or coffee cream.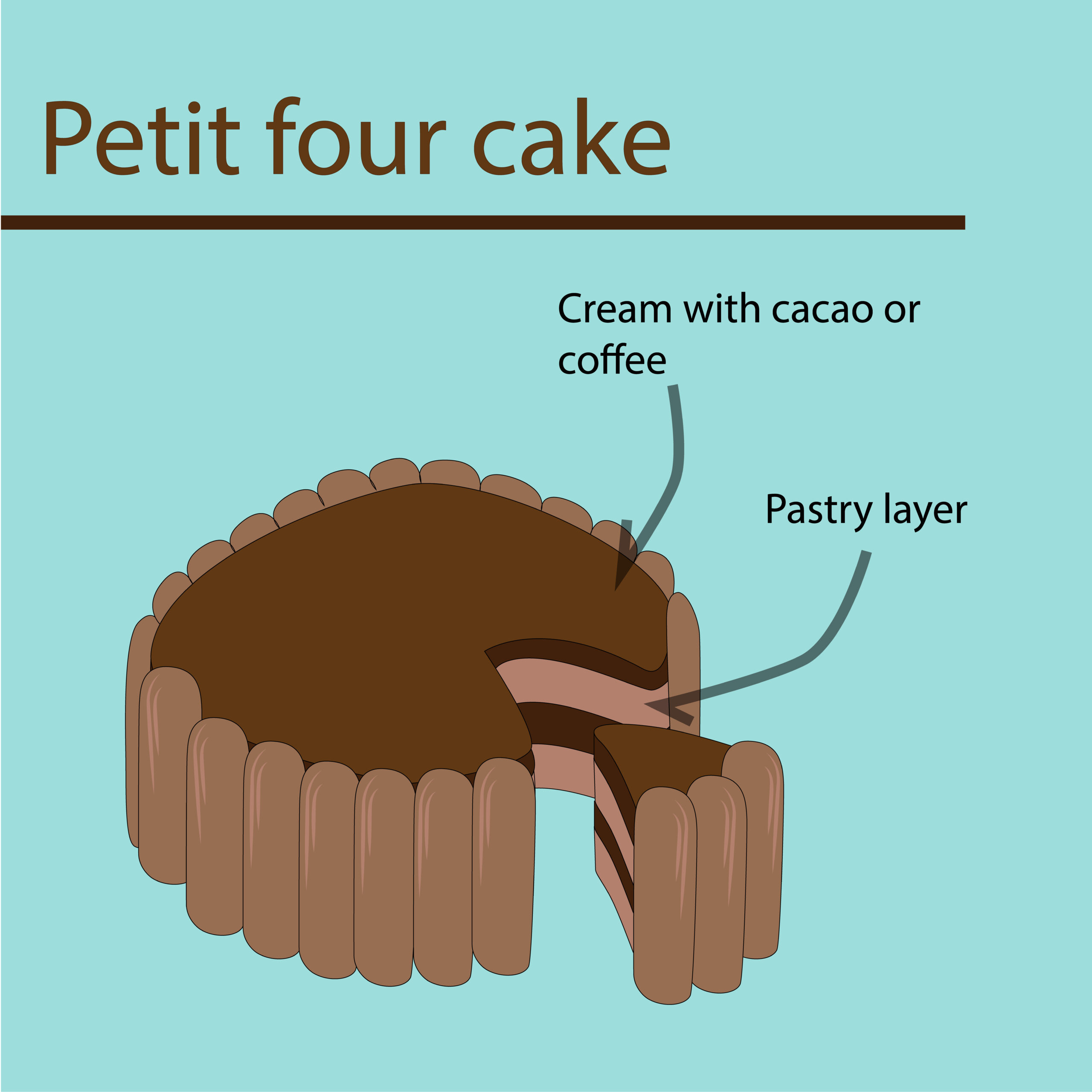 11. Orange Cake
One of the few citrusy cakes in the book: Orange glaze, orange cream, and even caramelized orange! I also think it is quite clever to have a layer of soft layer of dough on the edge of the cake to keep the cream in the cake.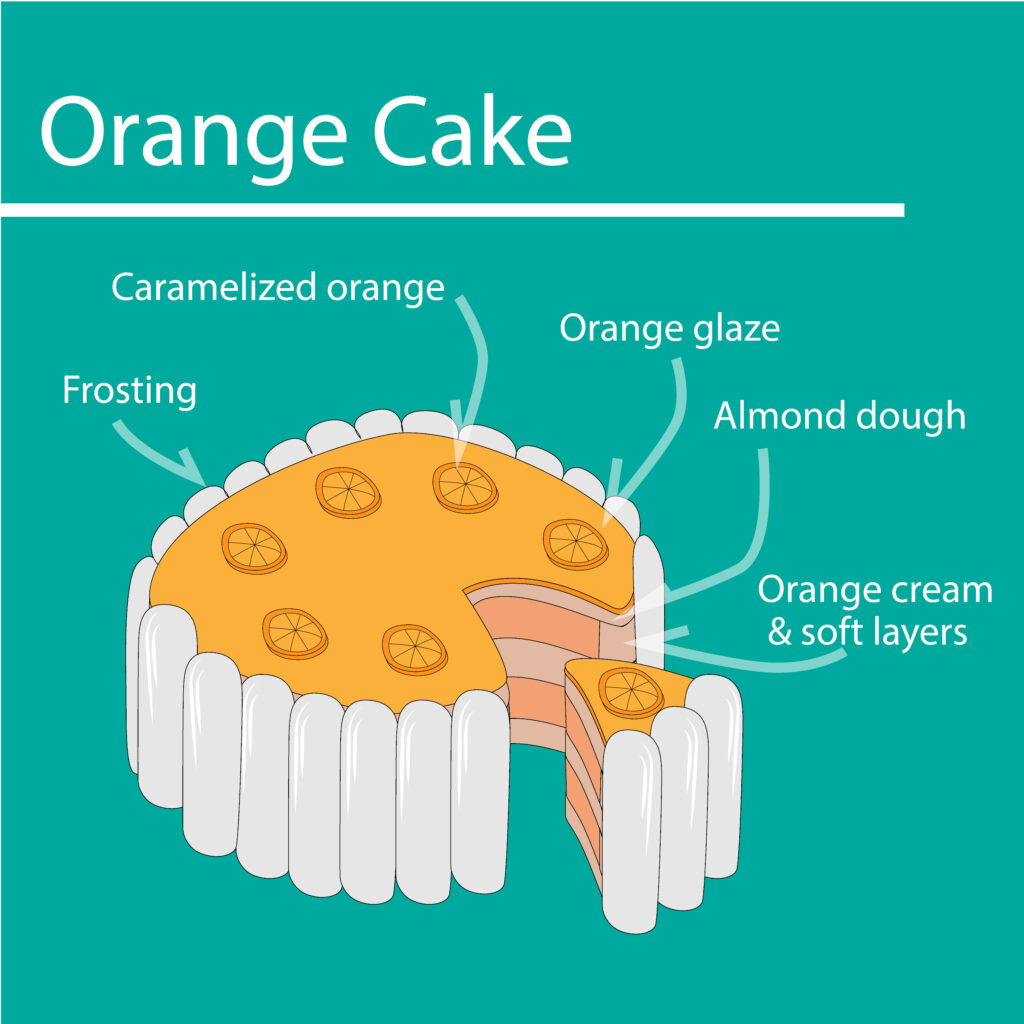 12. Orange Cakes
Here is another orange cake. Sorry. This time a small one the size of a muffin. Also with citrus flavor in both cream, glaze, decoration etc.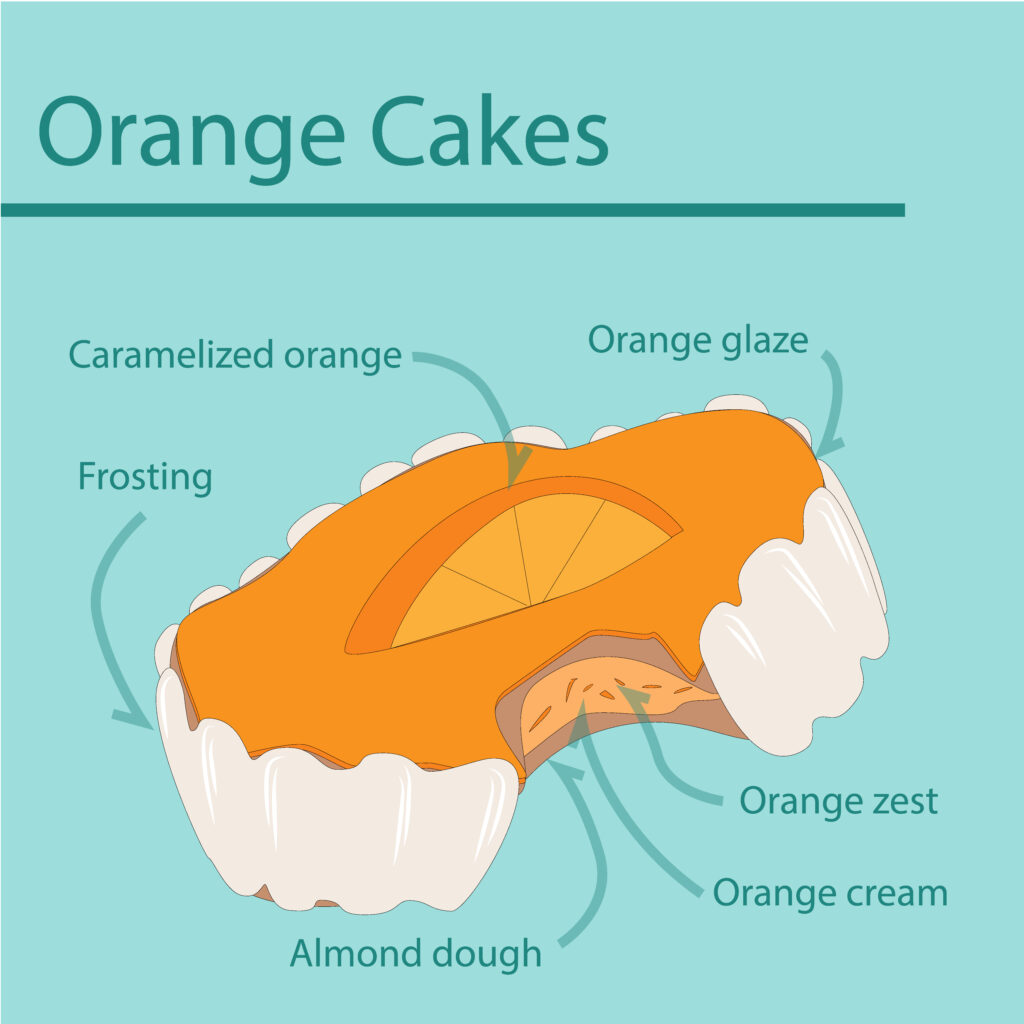 13. Linden Pretzel
Small easy and sweet cookies that are shaped like pretzels.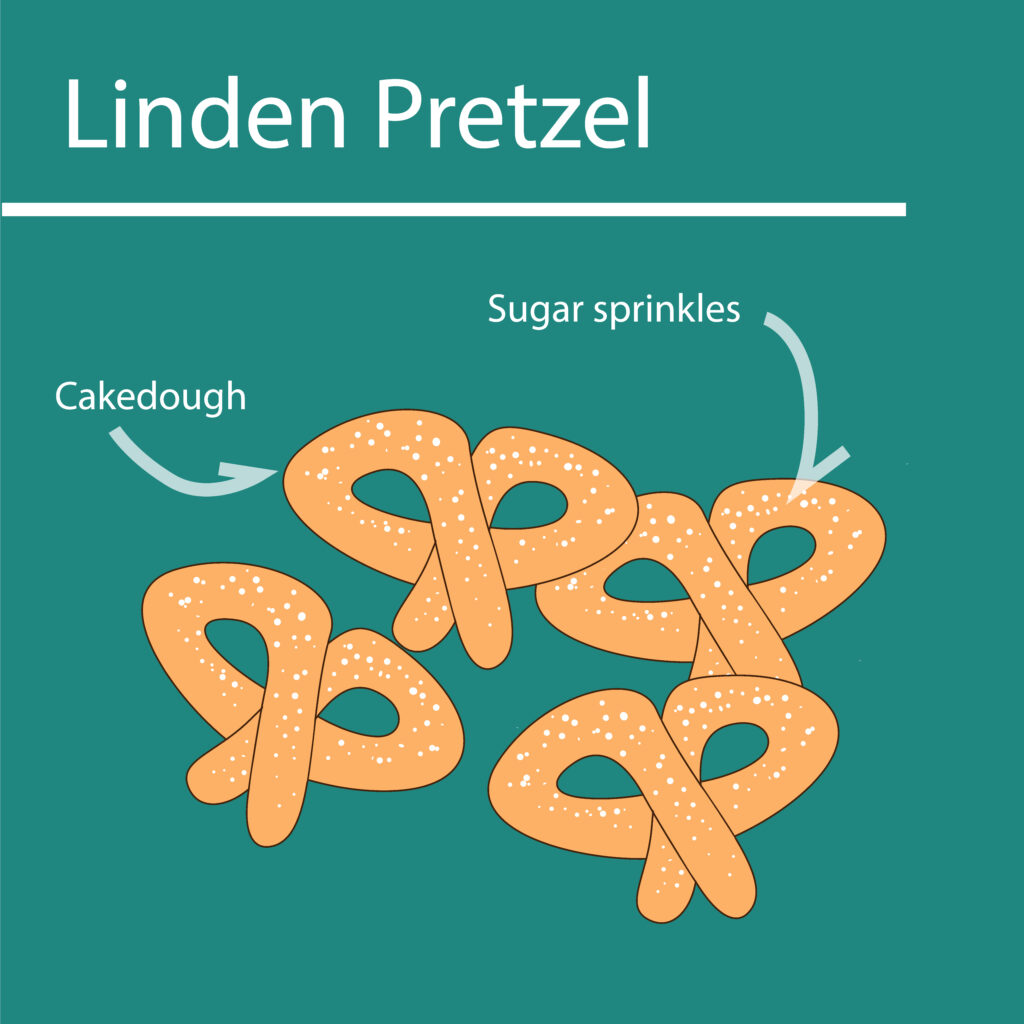 14. Magrethe Cakes
I apologize in advance that the drawing for this cake did not turn out so well. But the cake itself looks super nice with many exciting layers!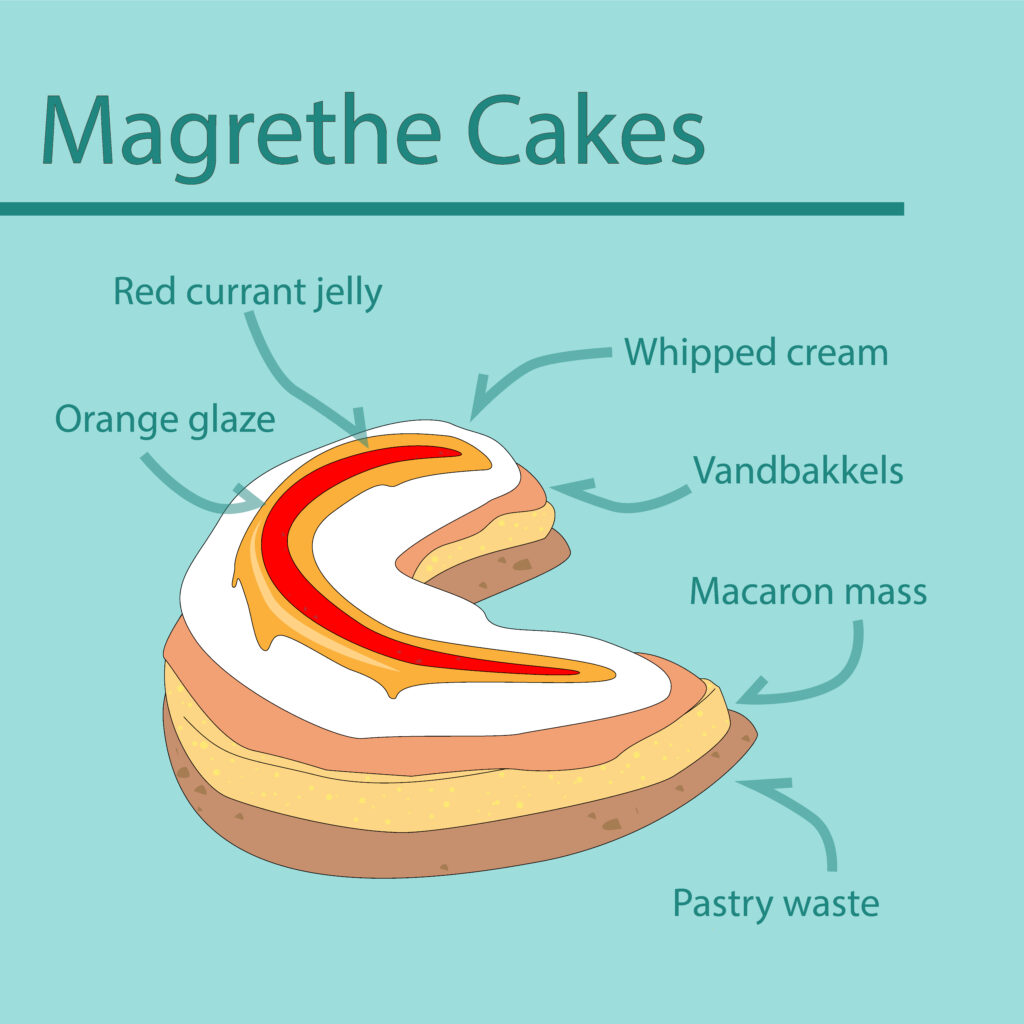 15. Walse Wreath
Last one! Here a choux with whipping cream and orange glaze and currant jelly. Yum.