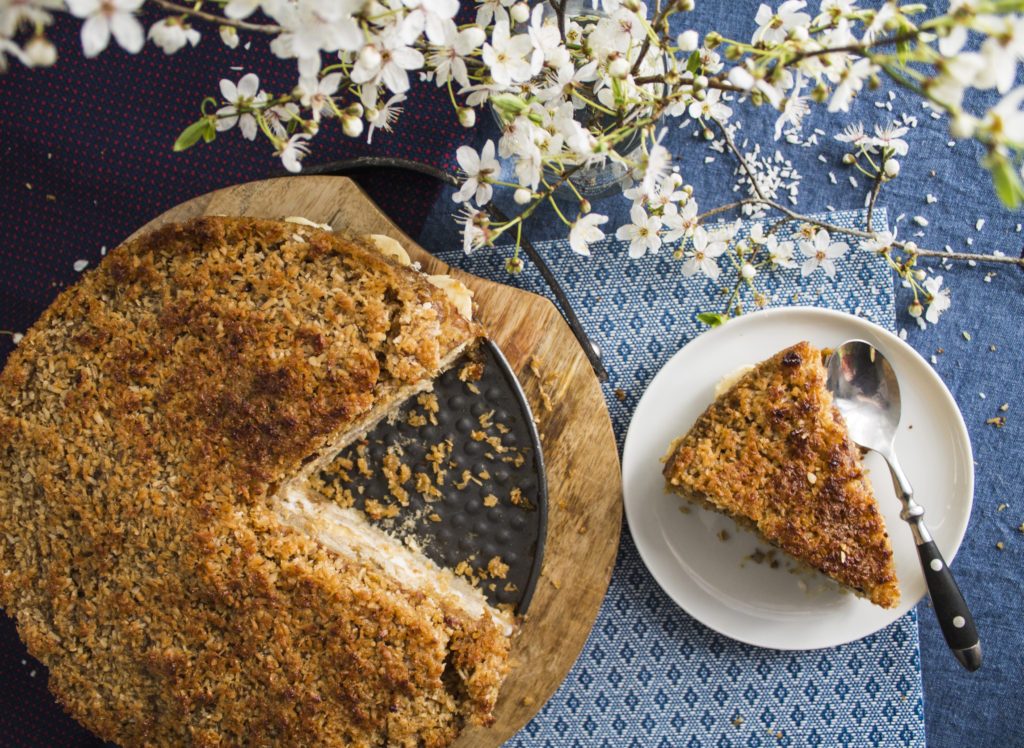 In Denmark, spring is starting to affect the weather and the first flowers have started blooming, which is really nice. You won't believe how nice and sweet the flowers in the pictures smell!
I have experimented a bit with the classic Danish "Dream Cake". This is originally made of a light fluffy sand cake with a coconut remonce on top. This, however, is a little more advanced with two layers of banana cake, banana-pieces and coconut cream in the middle, as well as the classic coconut remonce on top of the cake. And then it's also vegan! However, it has a slightly less airy and is instead a bit more dense, since it doesn't contain any eggs.
Small fun side note: I had a hard time finding dessert plates that are small enough, so the plates on the pictures are big saucers! If anyone knows a place you can buy small, colorful, simple dessert plates, please feel free to leave a comment with a link etc.
In addition, I also hope that you are all well and not too affected by this corona crisis, but that you have instead had better time to bake a delicious cake.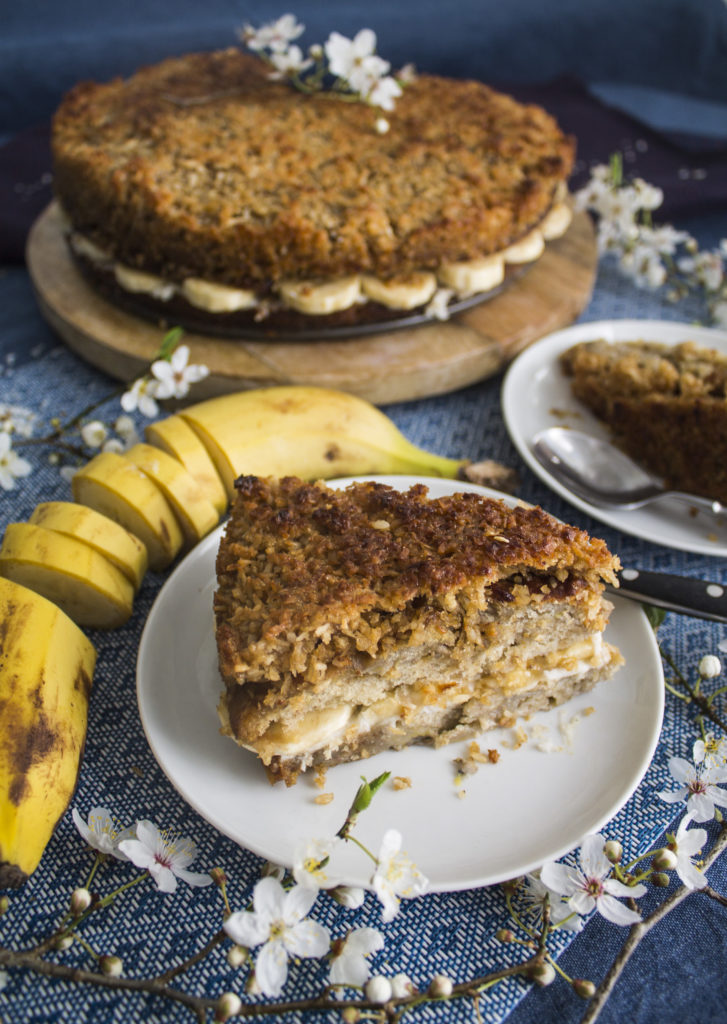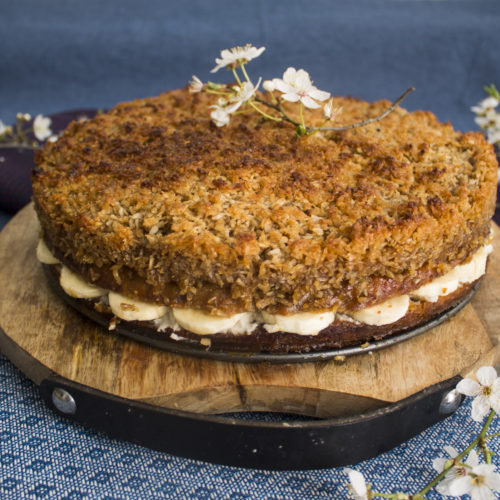 Vegan Coconut Banana Cake
Equipment
Springform pan (25 cm in diameter)

Cake cutter (not necessary, but it's easier than having to cut straight)
Ingredients
Banana Cake
360

g

flour

12

tsp

baking powder

5

tbsp

grapeseed oil

2

dl

coconut milk

6

bananas

200

g

brown sugar

75

g

vegan butter

150

g

coconut

desiccated

2

tbsp

coconut milk
Coconutcreme
3

tbsp

sugar

5 1/2

tsp

corn starch

6 1/2

dl

coconut milk
Instructions
Banana Cake
Mix flour and baking powder in a bowl

Add the oil to the bowl and stir well, there might be some lumps left

Mash the 6 bananas with a fork or blend them in a blender and add them to the dough with the 2 dl of coconut milk. Stir until the dough has an even texture

Lubricate the springform with a bit of fat (e.g., grape seed oil or vegan butter)

Distribute the dough in the spring form and bake it in the oven at 180 ° C for 30-40 minutes

While the cake is in the oven: Cut / chop the butter into smaller pieces and mix with brown brown sugar, coconut flour, and the rest of the coconut milk.

Take the cake out of the oven and put the farin mixture on top

Bake the cake further in the oven for 5-10 minutes at 220 ° C until the coconut mixture has turned golden

Let the cake cool completely
Coconut Creme
Whisk all the ingredients for the cream together in a thick-bottomed pot

Cook on medium heat until cream begins to thicken (about 40 min)

Take the cream off the heat and stir once in a while to avoid lumps until the cream is cold / at room temperature
Putting The Cake Together
Cut the cake in half in the middle of the part with bananas in (this is easiest to do with a cake divider) and remove the top with 1-2 pallets. Transfer the top part to e.g. a flat dish

Cut the bananas into slices of about 1 cm place them on the bottom

Spread the coconut cream over the banana slices

Lay the top of the cake on top of the coconut cream and serve
Notes
Wait till shortly before serving before putting the cake together, since the bananas in the middle turns brown after a short time