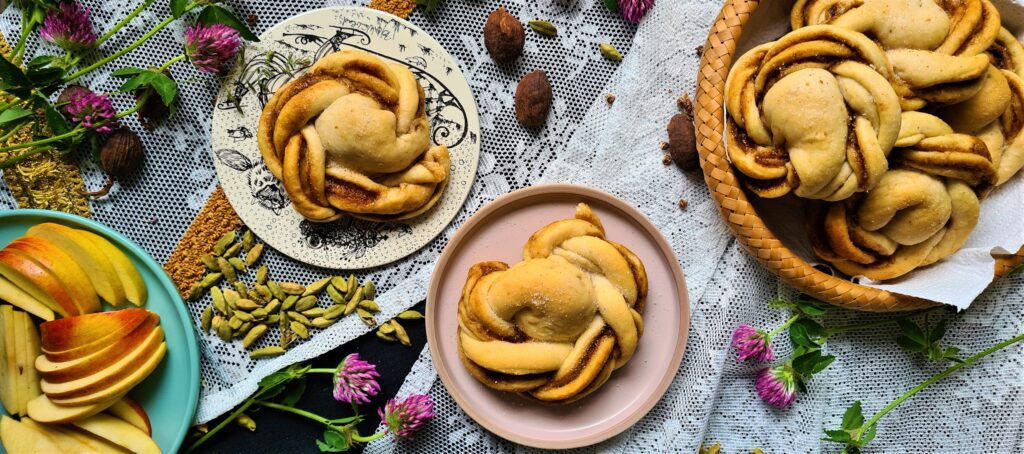 This recipe has taken wayyy too long to make. And I have to admit, it also takes a lot of time to make the pastry.
It is based on the classic Danish Cardamom Swirls. i have added apples and given it a new appearance. I have used both green cardamom and the Asian tsaoko cardamom. However, the latter can be omitted or replaced with green cardamom.
After the apple pieces have boiled in order to make the sugar layer, these can be discarded. However, they taste delicious and sweet and can be eaten as a dessert, perhaps with a bit of vanilla ice cream.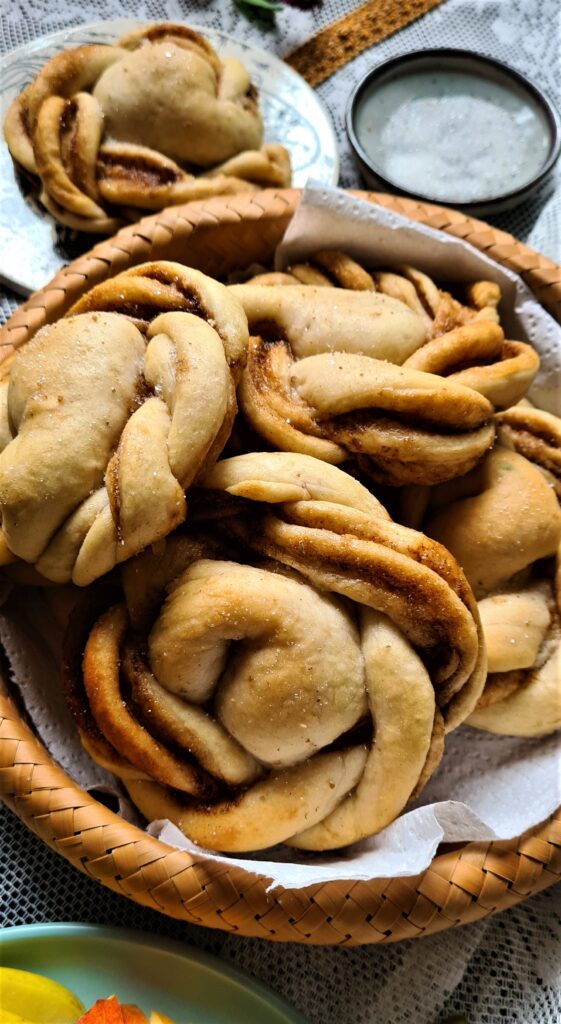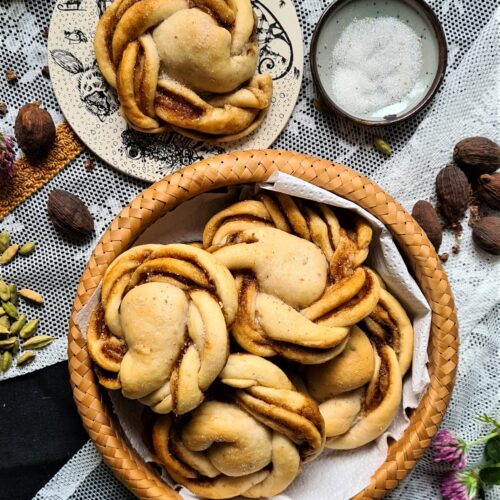 Cardamom wreath with apple
Ingredients
Dough
¼

tsaoko cardamom seeds

(equivalent to 1/2 teaspoon grinded, can be omitted)

4-6

green cardamom pods

(equivalent to 1/2 teaspoon grinded)

3

dl

plant-based milk

50

g

fresh yeast

(or 14g dry yeast)

2

tbsp

sugar

700

g

wheat flour

150

g

vegan butter
Remonce
200

g

brown sugar

2

tsp

grounded cinnamon

140

g

vegan butter

room temperature
Sugar layer for brushing
1½

dl

water

50

g

sugar

½

apple
Cardamomme sugar
½

tsp

green cardamom pods

grinded

1

tbsp

sugar
Instructions
Dough
Split the green cardamom pods and grind the seeds in a mortar

Pour the crushed seeds in a small bowl and save them for later

Pour milk and the green cardamom shells in a saucepan

Split the tsaoko cardamom pods, grind them coarsely in a mortar, and put the seeds in the milk

Heat the milk on low heat for about 10 minutes to infuse the taste of cardamom in the milk. Then pour it through a strainer to remove the cardamom shells and seeds

In a bowl, mix milk, the grinded green cardamom seeds, and yeast and stir until the yeast has dissolved

Mix all the ingredients together and stir until the dough is uniform

Sprinkle the kitchen table with a bit of flour and knead the dough on the table

Put the dough back in the bowl and cover it with a dishtowel

Let the dough rise for about 1 hour on the kitchen table

Make the remonce, sugar water, and cardamom sugar while the dough rises
Remonce
Mix sugar and cinnamon in a bowl

In a bowl, mix all the ingredients together with a fork until it is creamy and there are no lumps of butter
Sugar water for brushing
Cut the apple into smaller pieces so they can fit in a saucepan

Pour water, sugar, and apple pieces into a saucepan and cook for 20-30 min until the apple pieces are completely cooked

Remove the apple by running it through a strainer. Allow the water to cool
Cardamom sugar
Crush the green cardamom pods in a mortar and mix the seeds with the sugar in a small bowl
Fold cardamom wreaths
Rinse the apple, remove the core and chop it into small pieces

Divide the dough into 15 equal pieces

Roll each piece out into a small oblong rectangle

Smear some remonce on top

Place a few pieces of apple at one end of the rectangle and fold the dough up around these. Roll the rest of the dough into a roulade

Make a cut through the roulade so that it splits in the middle – but do not cut all the way through, the roulade should be in one piece at the top so that it looks like a pair of trousers with the apple pieces still covered in dough

Twist the two dough strips together to create one twisted piece. Fold the twist around the lump of dough with apples to form a wreath. Fold the end of the twisted piece under the wreath

Repeat with the rest of the dough pieces and the remonce

Place the wreaths on two sheets of baking paper and let them rise covered in a dishtowel for about ½ hour

Bake the wreaths in the oven until golden at 200°C for 10-12 min

Brush the cardamom wreaths with the sugar water and sprinkle with cardamom sugar as soon as they get out of the oven

Let the cardamom wreaths cool on a rack