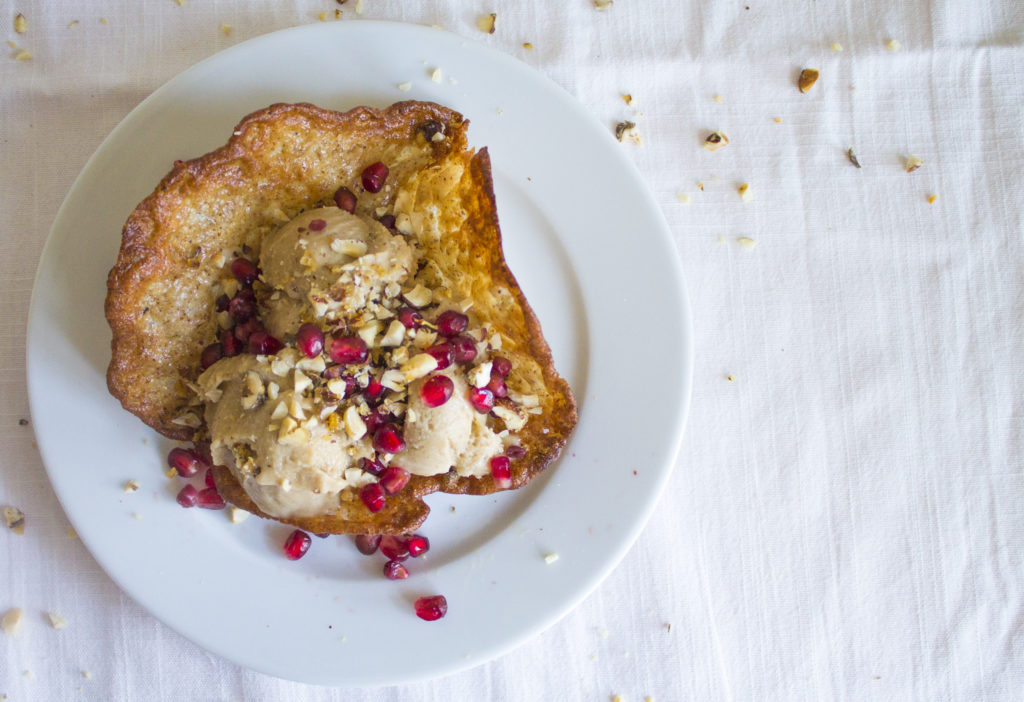 A delicious recipe on caramel ice cream perfect to eat in the nice summer weather. The ice cream is really easy to make (like most ice creams). However, it requires a little more patience than, for example, vanilla ice cream, because of the large amount of sugar used in caramel ice cream (caramel is basically sugar, salt and cream) that you have to melt – and it can take a while.
Caramel ice cream and nuts go really well together. And there are therefore both nut basket and nuts on top. But you can also just make the ice cream if you are not so much into nuts. The ice cream also tastes delicious with fruit such as pomegranate (which can be seen in the pictures).
My technique for making nut baskets is not quite perfected yet, as you can see from the pictures. However, I can't quite figure out if it is in fact my little mini oven which is to blame for the failure. Nevertheless, the basket tastes delicious, even if it has become a bit flat!
The ice cream can also be made without an ice cream maker, then you'll just have to put the mixture in the freezer and stir once in a while to make give it it's airy texture.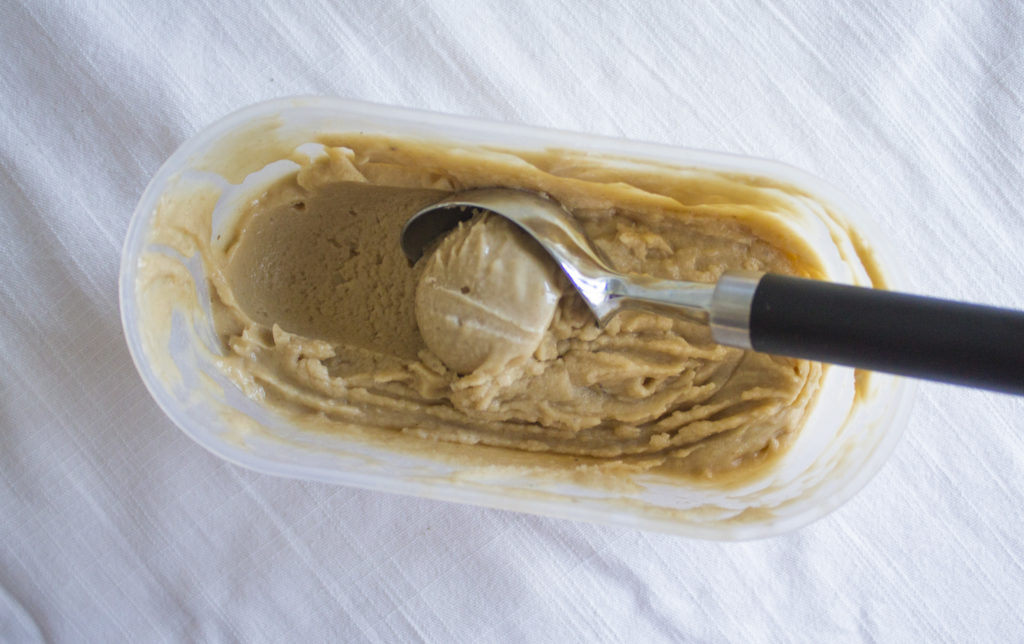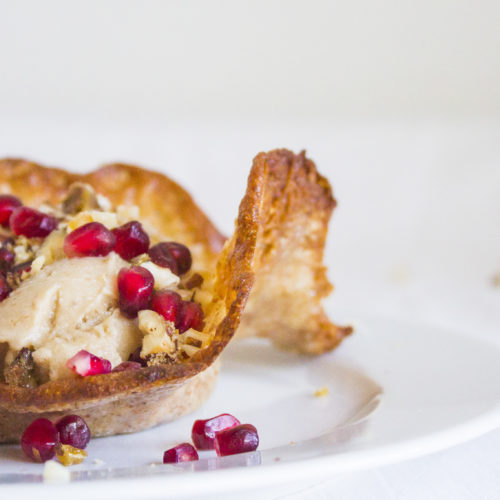 Caramel ice cream in nut bowl
Ingredients
Caramel Ice Cream (about 1 L)
3 ½

dl (350 g)

sugar

2 ½

dl

whole milk

½

tsp

vanilla extract

½

tsp

salt

6

dl

heavy cream

3

egg yolks
Nut Basket
40

g

hasselnuts

40

g

almonds

35

g

butter

4

tbsp

glucose syrup

100

g

sugar
Nut Garnish
135

g

sugar

75

g

hasselnut

75

g

almond

¼

dl

water
Instructions
Caramel Ice Cream
In a saucepan, heat the sugar over medium heat, stirring constantly until it is completely melted and dark amber

Add 3 dl heavy whipping cream little by little, stirring until the caramel has dissolved

In a bowl, whisk together the sugar-cream-mixture, salt, and vanilla extract

In a clean saucepan, heat the whole milk, the rest of the heavy whipping cream, and egg yolks, whisking constantly, until it is at 76° C

Pour the custard though a fine-mesh strainer into the cooled caramel

Let cool to room temperature

Transfer the mixture to your ice cream maker and freeze according to the instructions for the ice cream machine

Transfer the ice cream to a airtight box and put it in the freezer for at leased 20 min before serving to make sure that it is frozen
Nut Basket
Put the nuts in a foodprocessor/blender and blend them till they are a fine flour

Chop the butter and combine it with nut flour, sugar, and syrup in a bowl

Make 8 balls and place them on two sheets of baking paper. Make sure there are as much space between them as possible. Press on the balls till they are circles of about 1 cm thick

Bake the nut circles at 190° C for 9-11 min till they are golden, but able to bend

Remove the nut circles from the oven and let them cool for no more than a minute. Flip them over a small glass to give them a nice shape of a basket. Let them cool completely
Nut Garnish
Boil the sugar and water on the pan till it has become dark amber like caramel, stirring constantly

Add the whole nuts and stir till the nuts are evenly distributed in the caramel

Spread the caramel nuts on a piece of baking paper. Let cool completely
Putting It Together
Put two scopes of ice cream in each basket. Put a spoonful of nut garnish on top