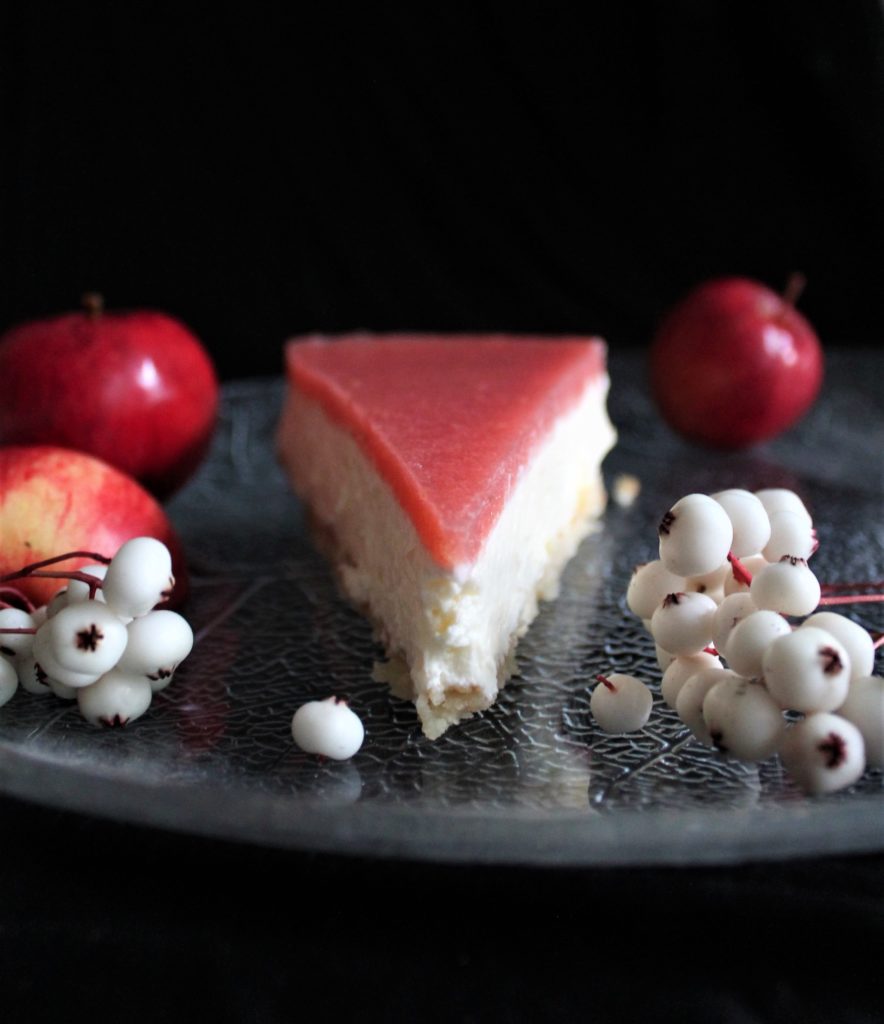 Autumn is upon us and that means that apples are in season (at leased in Denmark). It is therefore time for a creamy and sweet apple cheese cake!
As I am a big fan of making everything from scratch, you'll notice that no biscuits are used for the bottom layer! It's all flour, sugar, butter, etc.
To me, this tastes wayyy better and I don't have to feel bad about the palm oil in the biscuits either.
The almond flour can either be store-bought or made by blending whole almonds.
The apples that I used had a deep red color, which has given the upper layer a beautiful pink color. However, if you'd rather make an orange cake, either use apples which are less red or peel the apples.
If the apples take a long time to cool after they have been boiling, you can begin putting the cake together by putting the cheese-layer on top of the bottom-layer while waiting.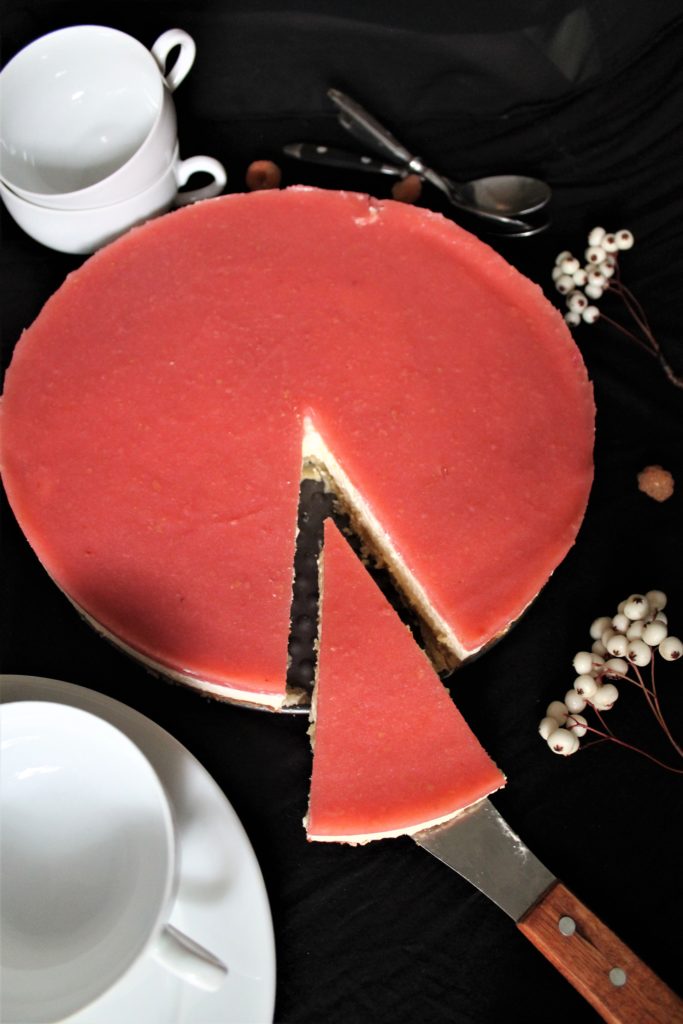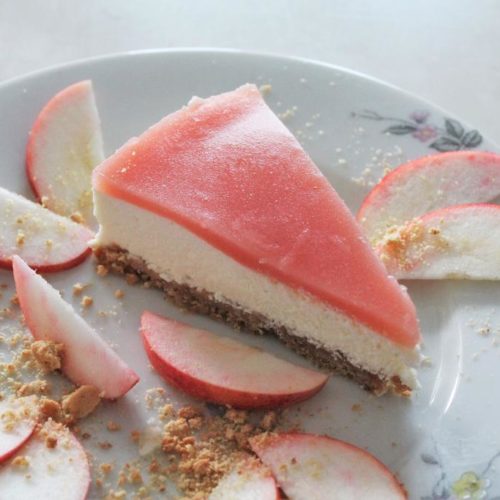 Apple Cheese Cake
Ingredients
Bottom layer
125

g

butter

60

g

sugar

100

g

flour

50

g

almond flour

1

tsp

baking powder

A pinch of salt
The apple topping
600

g

apples

1/2

dl

sugar

1/4

dl

water

1 1/2

tbsp

lemon juice

freshly squeezed

5

sheets

isinglass
The cheese layer
225

g

cream cheese

1

tsp

vanilla extract

150

g

sugar

1/2

dl

lemon juice

freshly squeezed

1/2

l

heavy cream

3

sheets

isinglass
Instructions
Bottom layer
Melt the butter in a sauce pan

Mix butter, sugar, flour, baking soda, and salt in a bowl

Distribute the dough in the springform and bake it at 190 degrees for about 15 min till it is lightly brown

Let cool (in the fridge if needed)
The apple topping
Remove the core of the apples and chop them into small pieces

Heat the water, sugar, and lemon in a saucepan till the sugar has dissolved

Add the apples to the pot and let boil at medium heat till the apple is tender

Remove from heat and blend tills it has an even texture

Let the apple-mixture cool in the fridge (make the cheese-layer while it cools)

When the apples have cooled:

Let the isinglass soak in cold water for 5-10 minuts till it is soft

Remove the isinglass from the water and press any leftover water out of the isinglass and put it in a metal-bowl

Melt the isinglass in a water bath with boiling water

Remove the isinglass from the heat and add a couple of tablespoons of apple to the isinglass – stir till it has an even texture

Add half of the apples to the isinglass a couple of tablespoons at a time, stirring constantly

Add the rest of the applemixture and stirr till it has an even texture
The cheese layer
Mix the cheese, vanilla, sugar, and lemon till even

Whisk the heavy whipping cream into whipped cream

Mix the cheese-mixture and whipped cream – don't stir more than needed, since it will ruin the airy texture of the whipped cream

Let the isinglass soak in cold water for 5-10 minuts till it is soft

Remove the isinglass from the water and press any leftover water out of the isinglass and put it in a metal-bowl

Melt the isinglass in a water bath with boiling water

Remove the isinglass from the heat and add a couple of tablespoons of cheesemixture to the isinglass – stir till it has an even texture

Add half of the cheesemixture to the isinglass a couple of tablespoons at a time, stirring constantly

Add the rest of the cheesemixture and stirr till it has an even texture
Putting the cake together
Put the cheese-layer on the cake. Make sure to even it out using a spatula and by sliding the springform back and fourth along the kitchen-table

Put the apple-layer on the cake – make sure to even it out using the same method as for the cheese-layer

Let the cake sit for 30 min in the fridge or overnight