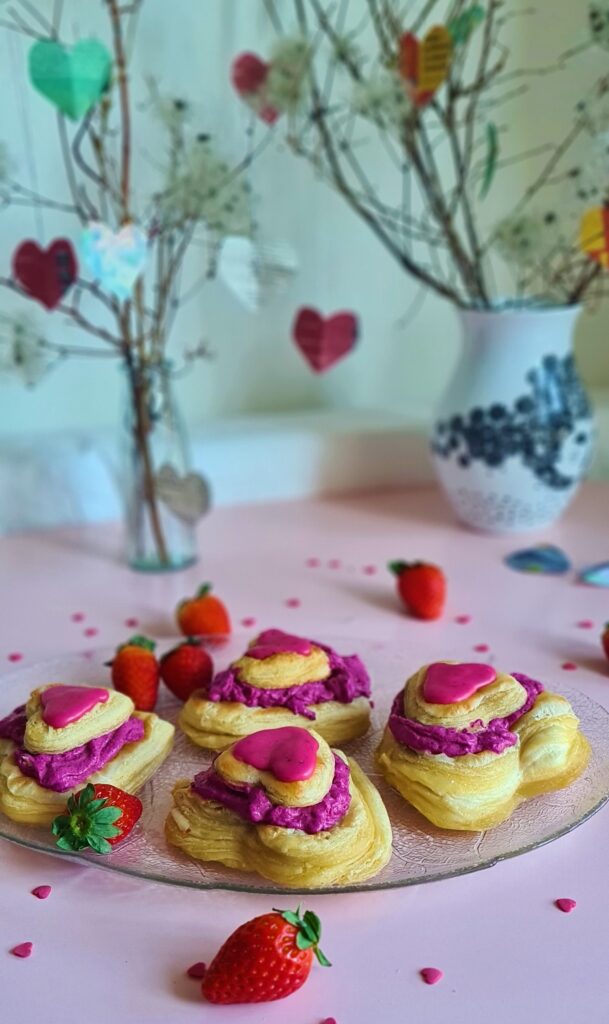 This Sunday is a holiday called "Fastelavn" celebrated in Denmark. It is very similar to Halloween in the US. It's tradition to eat buns with cream on this holiday. And this year I've made some with pastry dough and black currant cream, which are made from some of the last frozen berries from the garden. It's the same cream I use for my recipe for blackcurrant layer cake.
All the ingredients for the dough needs to be cold, including the flour, which you should put in the freezer the night before.
The shape of the buns is inspired by the fact that it is also Valentine's Day on the same day as Fastelavn this year.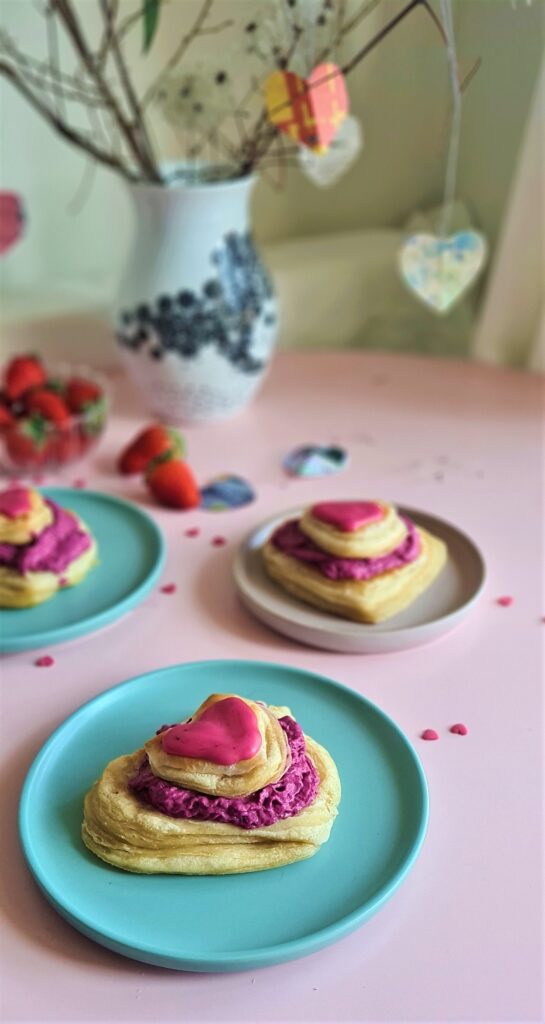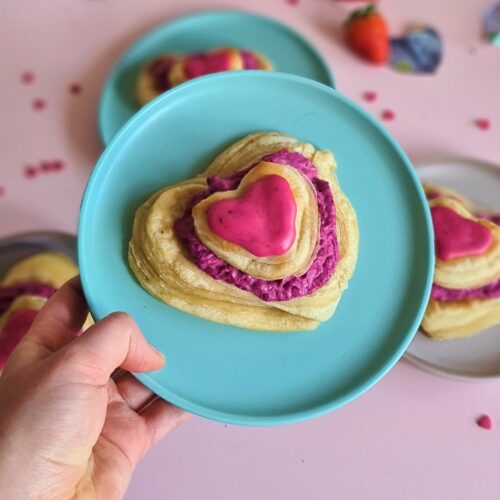 Vegan blackcurrant festive buns
Ingredients
Danish dough
4

dl

cold water

50

g

fresh yeast

100

g

sugar

20

g

salt

650

g

frozen flour

400

g

butter
Black currant cream
600

g

blackcurrant

100

g

sugar

½

lemon

4

sheets

of vegan gele

(equivalent to 8 g of agar agar or 4 sheets of isinglas)

2

dl

vegan heavy whipping cream
Instructions
Danish dough
Crumble the yeast in a bowl and pour in the water and stir until the yeast is dissolved

Mix the sugar in the bowl

Mix half of the flour and salt in the bowl and stir

Add the rest of the flour and stir with a wooden spoon or dough scraper until the dough is uniform

Put the dough in the fridge and let it rise for 30 min

Roll out the cold butter to 20 x 20 cm between two pieces of baking paper with a rolling pin

Sprinkle the kitchen table with flour and roll out the dough to 40 x 40 cm. Put the butter in the middle of the rolled out dough and fold all sides up around the butter and lightly press the dough together, so the butter is completely covered with dough. Put the dough on a cutting board and leave it in the fridge until it is completely cold (about 30 min)

Sprinkle the kitchen table with flour and roll the dough oblong to 40 x 80 cm. Fold both ends in towards the middle. Then fold the dough together once. There should be 4 layers of butter after the dough has been folded. Put the dough back on to the cutting board and place it in the fridge until it is completely cold (about 30 min)

Sprinkle the kitchen table with flour and roll out the dough to 30 x 60 cm. Stick out 20 hearts with a heart shaped cake slicer (about 10 cm in diameter). Then make holes shaped like hearts in the middle of half of the large hearts with a small heart shaped cake stick (about 6 cm in diameter). Save the large hears, the hearts with a hole, and the small hearts. Use excess dough by placing leftovers on top of each other and rolling it out into a new piece the same thickness as the old one and sticking out more hearts

Place the large hearts (without a hole in) on baking paper and brush their top with a little water. Place a heart with a hole in the center on top of each of the hearts on the baking paper. Also place the small hearts (from the holes) on baking paper.

Let the buns rise for 2 hours with a kitchen cloth on top or let them rise in the fridge overnight

Bake the buns in the oven for 10-15 minutes at 190°C

Allow the buns to cool before adding the cream. Make the cream in the meantime
Blackcurrant cream
Blend the blackcurrants and strain the seeds and flesh of the berries through a strainer (use a spoon to squeeze out as much juice as possible)

Put blackcurrants, sugar, and juice from the lemon in a saucepan and cook until the sugar has dissolved

Remove the saucepan from the heat

Put the gel in the warm blackcurrant mass while stirring constantly

Let the blackcurrant mass cool to room temperature (possibly by putting it in the fridge)

Whip the heavy whipping cream stiff and add a few tablespoons at a time into the blackcurrant mass. Stir only until the cream is uniform to make it as fluffy as possible
Put The Cake Together
Put the cream in a spray bag and spray the cream in the hole in the middle of the buns

Optional: Add a bit of icing on the small hearts (made from blended and strained blackcurrant, icing sugar, and water)

Place the small hearts on top of the buns