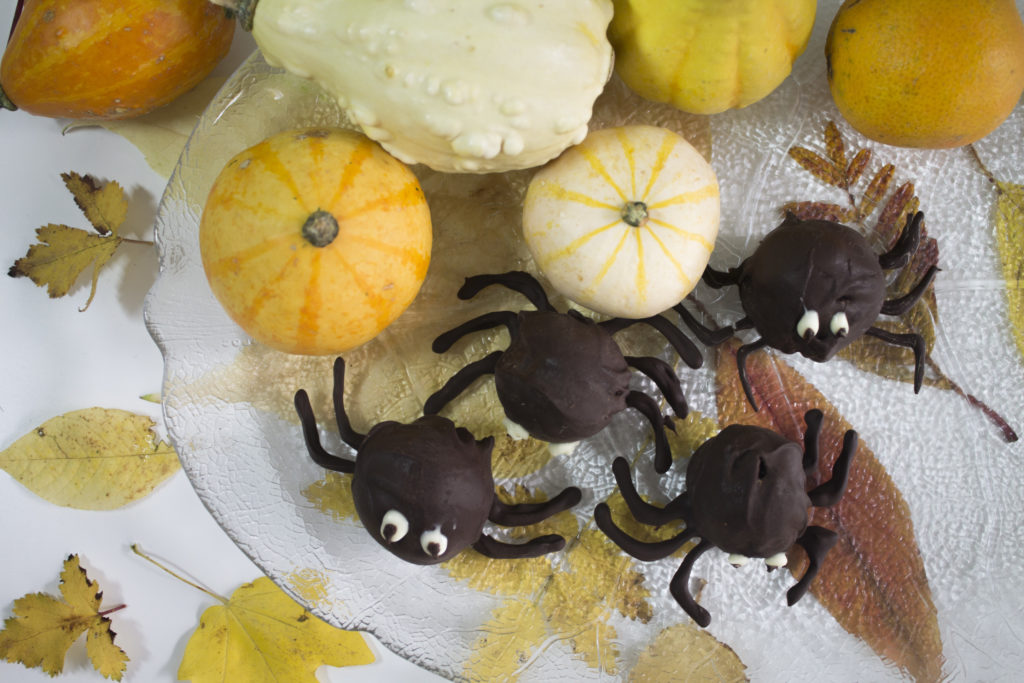 Halloween is just around the corner!
And what would halloween be without spooky spiders?
These delicious treats are made of dates and chocolate with a hint of fresh orange.
It has a heavy taste of dark chocolate and is therefore most suitable for adults with a sweet tooth.
If you are intolerant to gluten or vegan, fear not! Because even though they might seem scary, they are 100% vegan and gluten-free!
The granulated nuts can either be store-brought (probably called e.g. "almond flour") or made at home by blending the nuts yourself.
Tips regarding the decoration
Make sure that the legs are at least as thick as a matchstick, since they will break when you remove them from the baking paper if they are too thin!
Also, don't put the spiders in the fridge, since this might ruin the color of the chocolate. This happens because the temperature of the chocolate is drastically changed, which can give it a dull grey color.
Instead of covering the spiders in chocolate (e.g. if you don't like the taste of dark chocolate) you can also roll them in milk or white chocolate, granulated coconut, or cocoa powder.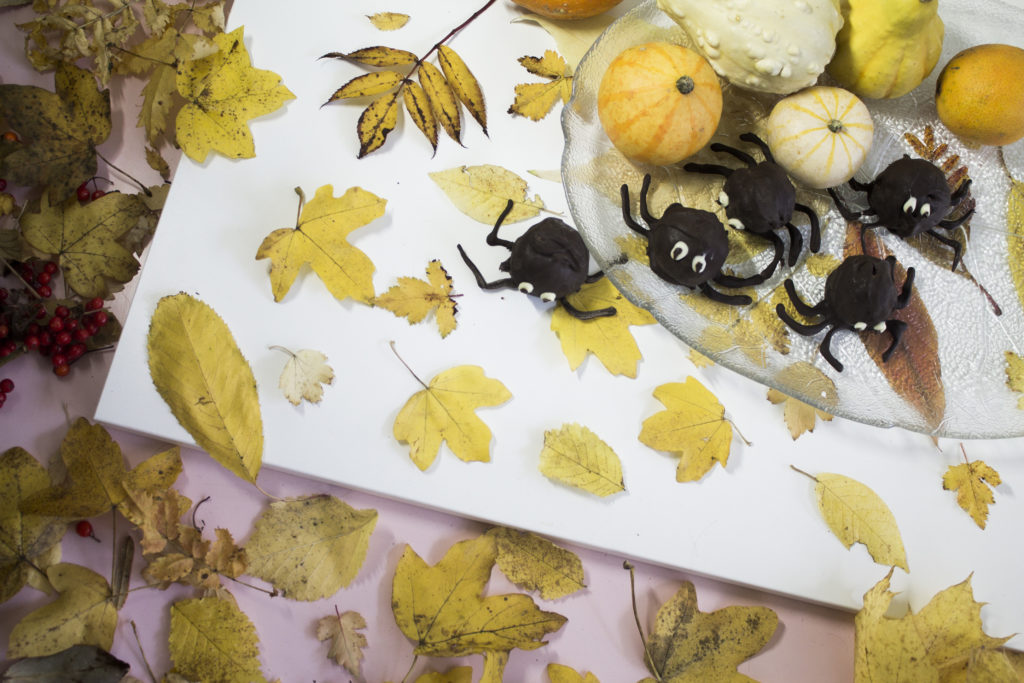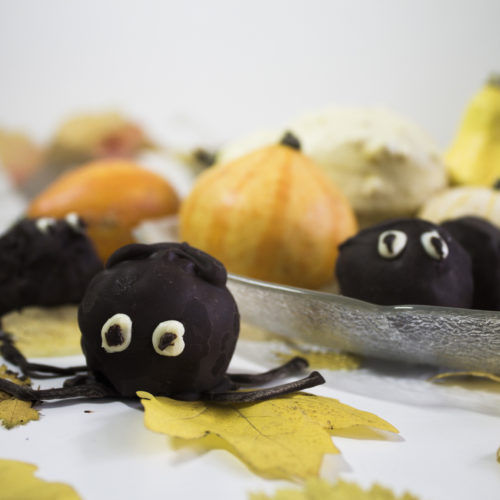 Dateball Spiders
Ingredients
Date Balls
1 1/2

tbsp

coconutoil

150

g

dates

1 1/2

tsp

orange juice

freshly squeezed

1

tsp

grated orange peel

1

tsp

cocoa powder

unsweetened

3

tbsp

coconut

granulated

3

tbsp

almond or hasselnut

granulated
Halloween Decoration
200

g

dark chocolate

25

g

white chocolate
Instructions
The Date Balls
Melt the coconut oil on a pan

Blend the dates, coconut oil, and orange juice in a blender

Add the orange peel, cocoa powder, granulated coconut, and nuts

Roll small balls of the dough
The Decoration
Melt the dark chocolate in a water bath

Put 1/4 of the melted chocolate in a piping bag. Let the rest be in the bowl in the water bath (to keep it melted).

On a piece of paper draw a circle the size of your balls and draw legs on this circle in the size and shape you want the spider-legs to be

Place the drawing underneath a sheet of baking paper and make the chocolate-legs with the piping bag

Remove the bowl with chocolate from the water-bath. Roll the balls in the remaining melted dark chocolate in the bowl and put them on top of the legs

Melt the white chocolate in a water bath

Put the white chocolate in a piping bag and let sit till it can be applied to vertical surfaces without running (we do not want it to be too wet when applying)

When the spider is close to dry draw eyes with the white chocolate

If you want pupils on your spiders, you can heat a bit of dark chocolate and put it in a piping back and apply it on the white eyes

Let the spiders dry completely before serving