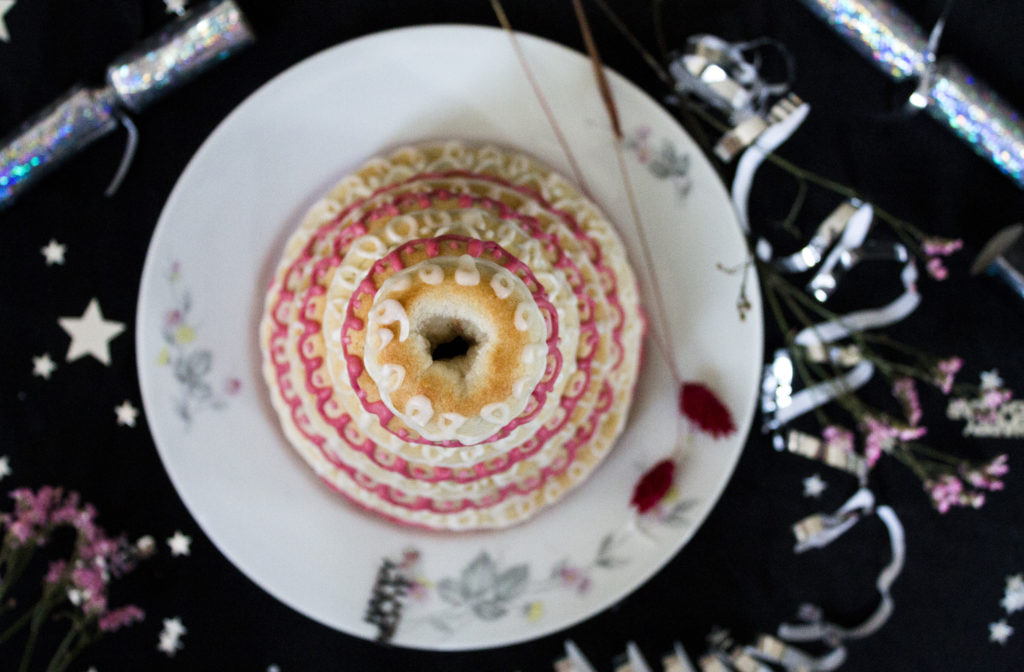 Another year has passed, bringing new year's eve upon us again.
In Denmark we celebrate the new year by eating this "kransekage" at midnight with a glass of campaign. The cake consists of a couple of rings made mainly of marcipan stacked on top of each other – in this recipe there are also nougat in the middle of each ring.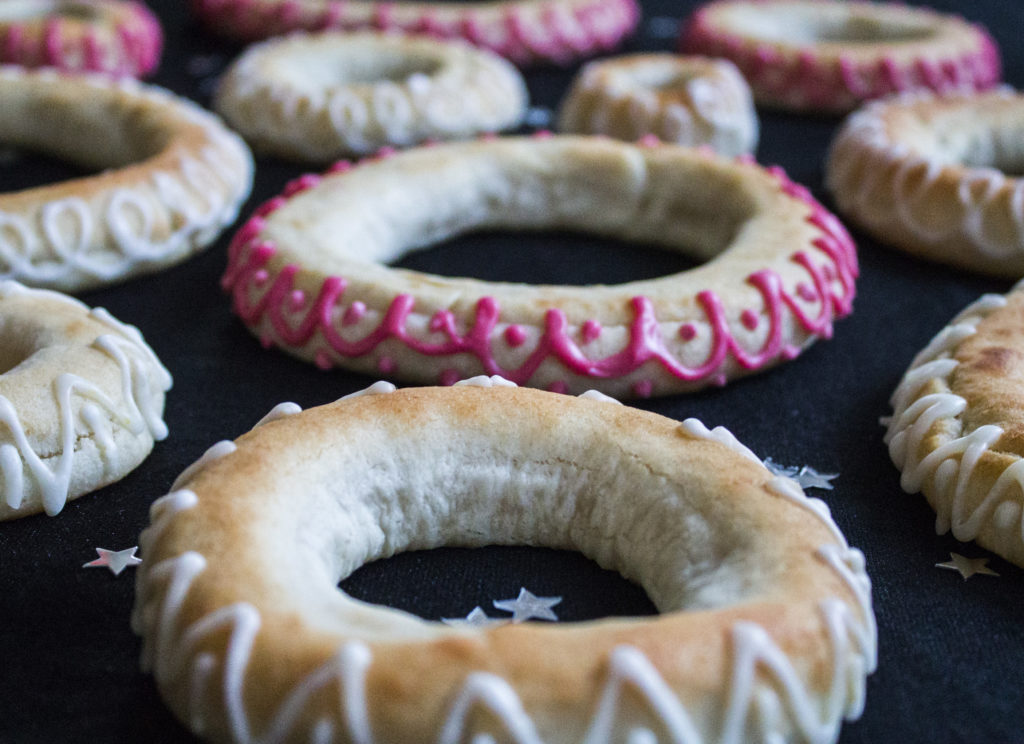 I've also decided to make three different kinds of icing: A regular icing made of sugar and water, one with raspberry, and one with lemon. Each ring is garnished with a different type of icing.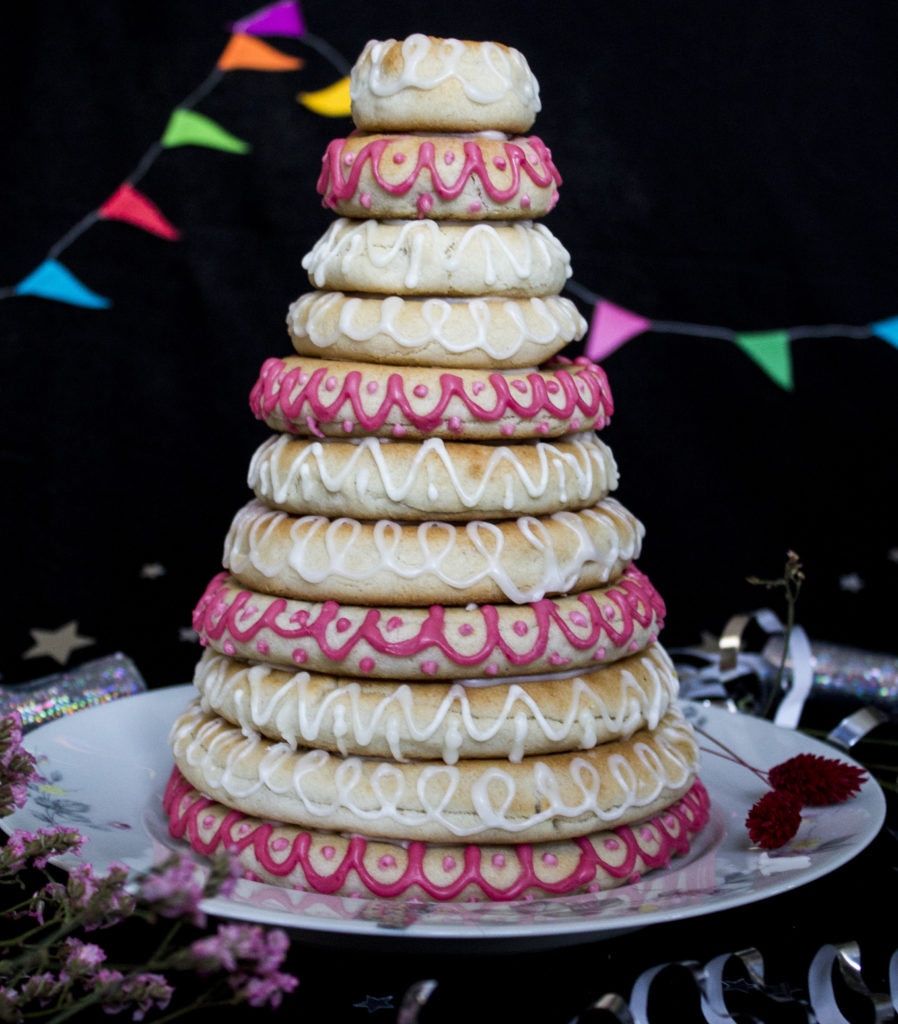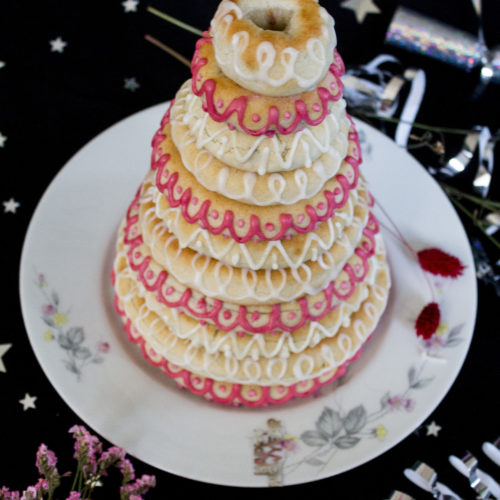 Danish New Year's Cake
Ingredients
The Cake
800

g

marzipan

300

g

powdered sugar

1 1/2

egg whites

150

g

nougat
The Icing
17

tbsp

powdered sugar

2 1/2

tbsp

water

2

tbsp

raspberry

1

tbsp

lemon juice

freshly squeezed

1/2

tsp

grated lemon peel
Instructions
Grate the marzipan and mix it with powdered sugar and egg whites in a bowl. You might need to knead the dough on the kitchen table to ensure that it has an even texture

Roll the dough into a sausage about 2 cm thick. Cut the sausage into pieces of 8 cm, 10 cm, 12, cm, 16 cm, 20 cm, 22 cm, 24 cm, 26 cm, 28 cm, 30 cm, 32 cm, 34 cm, 36 cm in length

Cut the nougat into oblong pieces, 1/2 cm wide and 1/2 cm high, being as long as possible

Make a cut in the sausage from one end of it to the other. Make the cut about 3/4 deep. Place the nougat in the cut.

Squeeze the marzipan on top of the nougat so that the nougat is no longer visible. Roll the marzipan sausages in order to make them cylindrical again (as they usually get a triangular shape after the nougat is inserted)

Squeeze the ends of each sausage together to form rings

Bake rings at 225 degrees C for 8-10 min in the middle of the oven (make sure that the rings do not get too much heat from beneath)

Let the rings cool completely

Blend the raspberries and sieve it in order to remove the seeds. Put the pureed raspberry in a bowl. Add 1 tablespoon water and 5 tablespoons powdered sugar

In a new bowl, mix lemon juice and lemon peel with 1/2 tablespoon water and 6 tablespoons powdered sugar

In a third bowl, mix 6 tbsp sugar and 1 tbsp water

Put the different types of icing in piping bags and spray it on the rings – switch between each type of icing between each ring

Put the largest ring on a platter and then place one ring at a time on top of the largest ring. Spray a bit of regular icing under each ring before placing them on top to make sure the rings are "glued" together