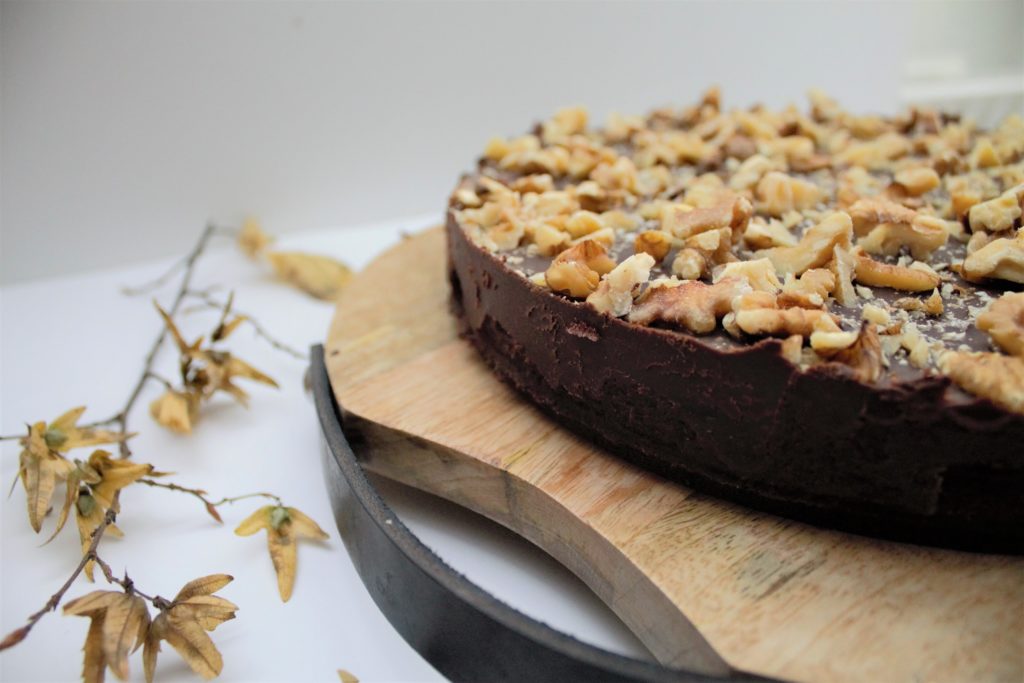 This is inspired by the chocolate tart (Chocolate truffle cake with pine nuts) from the cook-book "Kager der smager og andre søde sager" authored by Alette Bertelsen.
However, I wanted to experiment with adding a fruity taste to it. The cake consists of two layers and I therefore choose to experiment with beetroot and raspberry (one fruit/veggie in each layer), which was really fun!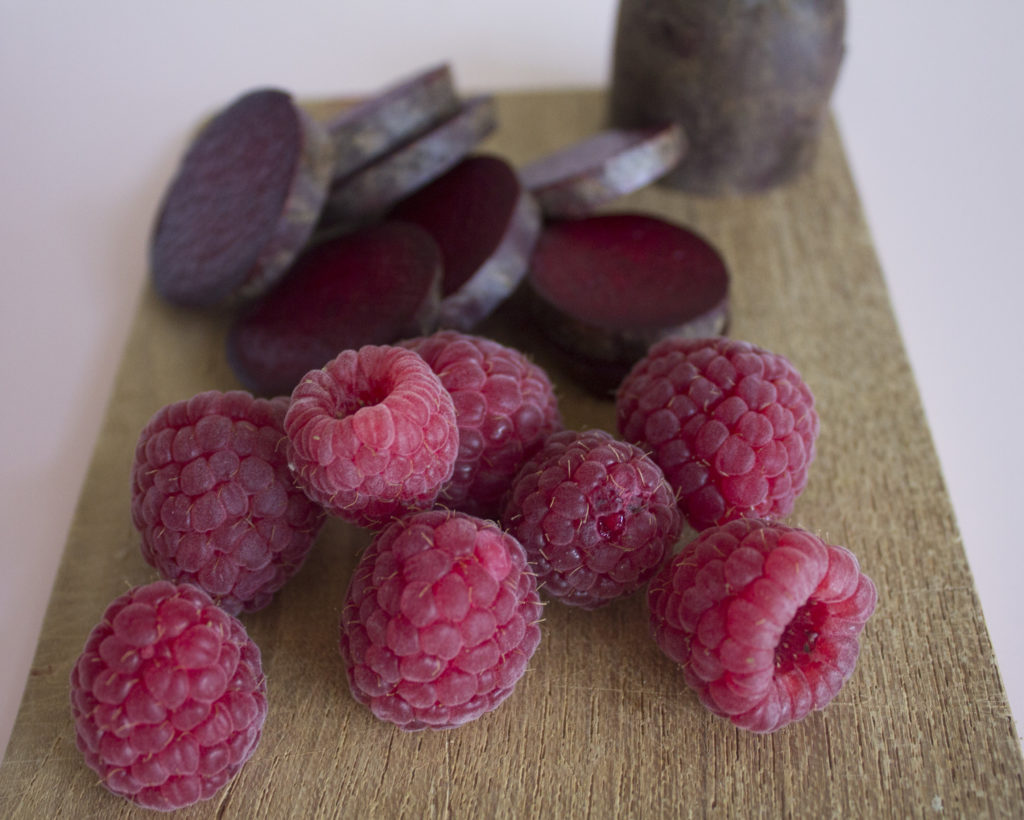 The beetroot provides a very grounded taste (bottom layer), whereas the raspberry provides a sweet and fruity taste to the bitter dark chocolate in the truffle layer.
I quickly discovered that one have to add quite a lot of beetroot to the cake in order to be able to taste it, which also makes the layer more moist. This was a problem, sinde it was important, that the bottom layer of the cake stayed dry. If the bottom becomes too moist, it becomes impossible to feel the difference between the layers, and the cake would become too creamy for my taste.
The time and temperature of the oven therefore had to be adjusted.
The cake is condense and tastes heavily of dark chocolate, which makes it heavenly to serve with vanilla ice cream. The recipe for homemade ice cream can be found here: http://sweetchamomilla.com/recipes/vanilla-ice-cream/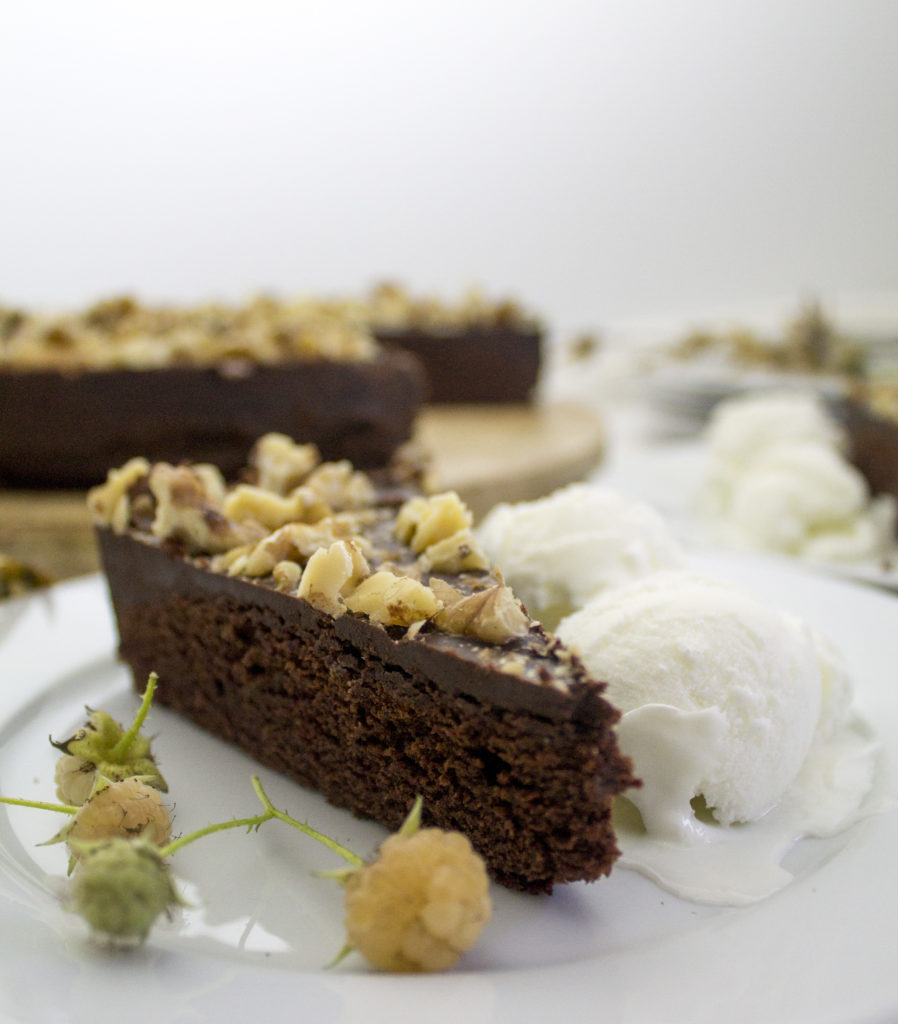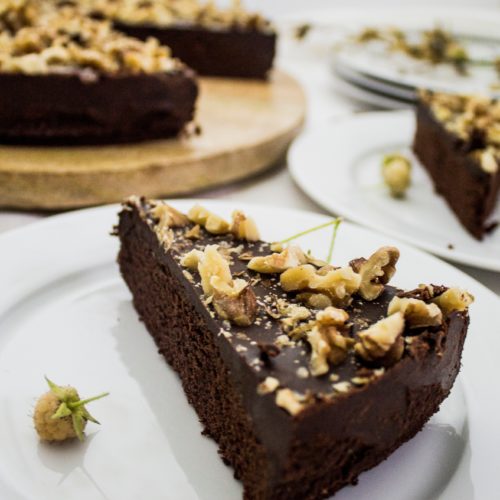 Chocolate Tart With Raspberry & Beetroot
Ingredients
Bottom Layer
125

g

butter

180

g

beetroot

300

g

sugar

50

g

cocoa powder

unsweetened

2

tsp

vanilla extract

2

eggs

160

g

flour

Butter to lubricate the baking pan
Truffle Layer
200

g

dark chocolate

at least 60% cocoa

50

g

raspberry

2

tbsp

butter

1 1/2

dl

heavy whipping cream
Instructions
Bottom Layer
Melt the butter in a saucepan

Peel the beetroot and blend it in a blender with the melted butter

In a bowl, mix beetroot-butter, sugar, cocoa, and vanilla.

Add the eggs on at a time – whisk thoroughly

Add the flour and whisk till the dough as an even texture

Lubricate the springform pan with some butter and pour the dough into the pan

Bake the cake at 175 degrees C for 30-40 min

Let cool completely on the kitchen table
Truffle Layer
Chop the chocolate into smaller pieces

Blend the raspberry and pour it through a strainer – use a spoon to push as much through the strainer as possible. This removes the seeds.

Bring raspberry, heavy whipping cream, and butter to a boil in a saucepan, stirring constantly.

Remove the saucepan from the heat and pour the dark chocolate into the heavy whipping cream mixture and stir using a whisk in order to melt it
Putting The Cake Together
Pour the truffle layer over the cold bottom layer. Slide the springform back and fourth along the kitchen-table in order to even out the truffle layer

Chop the walnuts and spread them on the cake

Let the cake sit in the fridge for at least an hour before serving