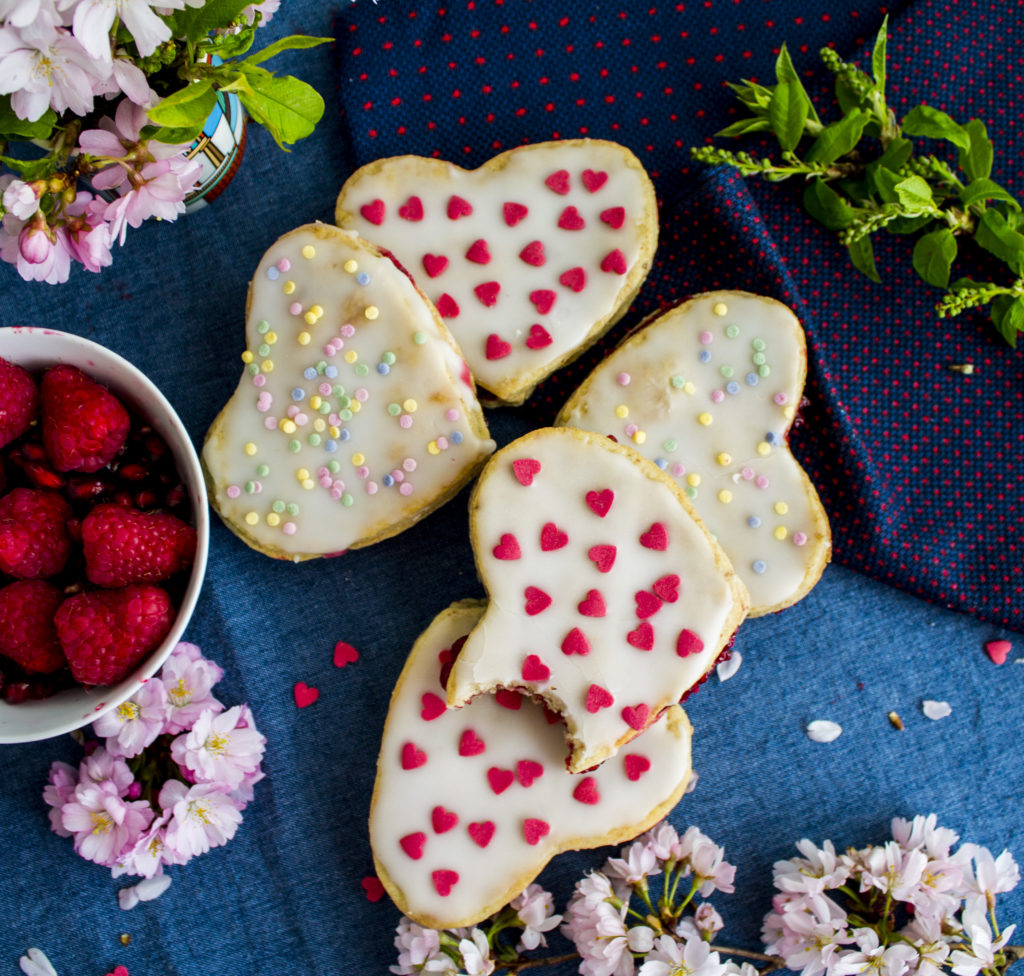 I look very much forward to the berry season here in Denmark, although there is still quite a long time to go. So here comes a delicious recipe with raspberries in it: Vegan Raspberry Pop Tarts!
These are very much Danish and you can find them in most bakers, however, I think they are also quite normal in America, right?
In the pictures I have made the raspberry cutters heart shaped, however, normally, they are either square or triangular. The recipe describes how to make them square / triangular. It's not that difficult to make them heart-shaped, either: When you roll out the dough, do so on a kitchen table with flour sprinkled on top. Cut the heart shape in the dough with a heart-shaped cookie cutter. The heart shaped cookies are baked in the oven as instructed in the recipe. Then add the raspberry filling on half of the cakes and icing and springles on the rest of the cakes. Place the icing cookies on top of the cookies with filling (the icing must point upwards).
It is advantageous to leave the butter on the kitchen table for a few hours before using it in the dough, so it will be completely soft and easier to work with.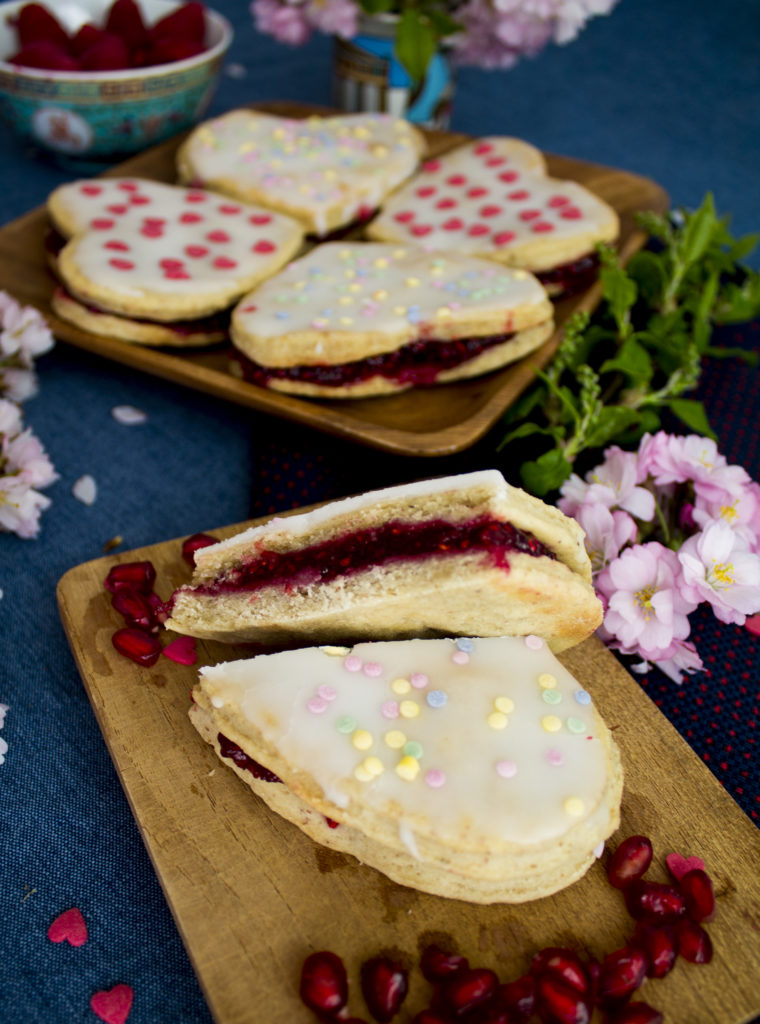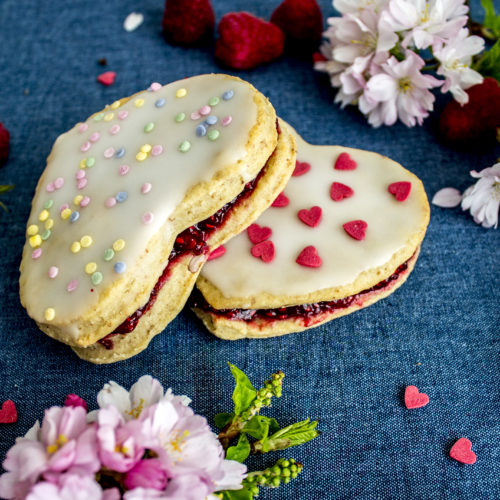 Raspberry Pop Tarts
Ingredients
Raspberry Filling
400

g

raspberry

250

g

sugar

3

tsp

lemon juice

freshly squeezed

3

tsp

vanilla extract
Dough
250

g

flour

60

g

almond flour

1

tsp

baking powder

40

g

powdered sugar

200

g

vegan butter

1

banana
Royal Icing
150

g

powdered sugar

3

tbsp

water

1/2

tbsp

lemon juice

freshly squeezed
Instructions
Raspberry Filling
Combine raspberry, sugar, lemon, and vanilla in a saucepan

Boil the filling at medium heat till it starts to thicken (about 30 min) while stirring
Dough
Combine flour, almond flour, and the baking powder in a bowl

Add the powdered sugar through a strainer

Chop the butter (if it isn't already soft) and mash the banana with a fork

Add the butter and banana to the flour-mixture and stir/knead till combined

Let the dough rest in the fridge till cold (about 1 hour)

Divide the dough into two parts and roll each out to a square on a piece of baking paper

Divide each square into two parts of the same size with a butter knife

Bake on a baking pan in the middle of the oven at 175° C for 12-15 min till the dough has turned light brown
Putting it together
Spread the raspberry filling on half of the dough on each baking pan and flip half of the dough over the filling

Combine ingredients for icing and spread on top of the two cooled cakes

Spinkle the rainbow sprinkles

Let the cakes cool before cutting them into squares or triangles