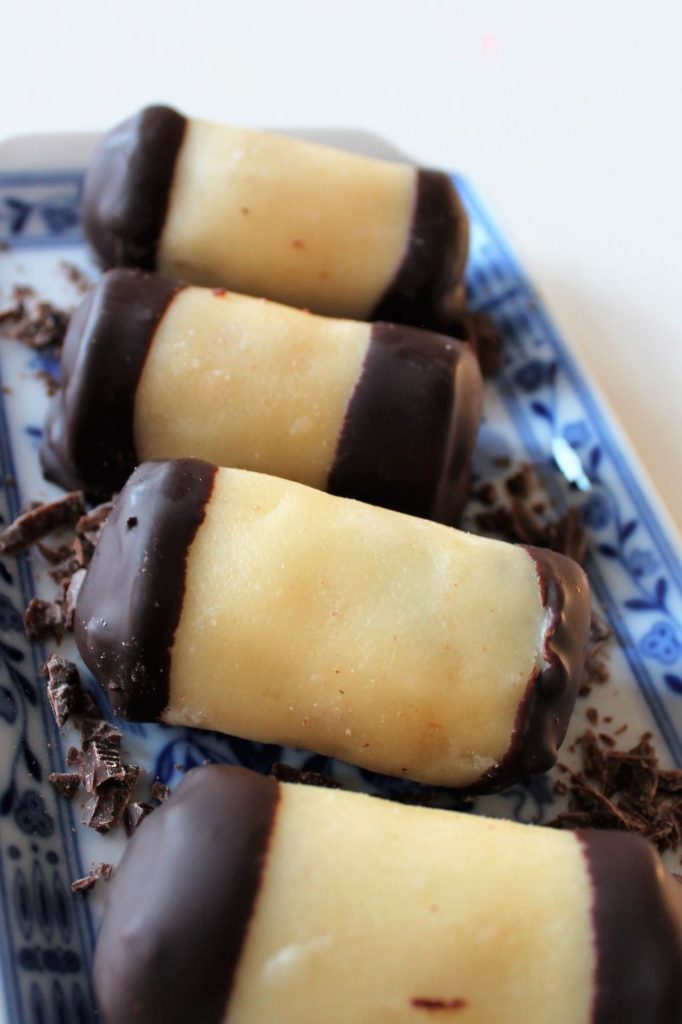 This is a traditional Danish cake, which you can buy in almost every bakery. The name directly translated is "lodge".
It looks a lot like the Swedish cake "Dammsugare med pepparkaksdeg" (translation: Pastry roll with gingerbread ) , however, as the name implies, it mainly consists of gingerbread. "Træstammer", like the Danish "Romkugler" (translation: Rum ball) and "Studenterbrød" (translation: Student bread), mainly consists of yesterday's dry cake mixed with a few ingredients. Both "Træstammer" and "Dammsugare med pepparkaksdeg" are covered in marzipan and dipped in chocolate.
This recipe does not contain leftover-cake since (in my experience at leased) it doesn't happen quite often, that you, as a privat person, have uneaten cake in the drawer. And buying a store-brought (and often low-quality) cake just isn't an option I'm interested in pursuing!
A butter cream layer has been added between the inner layer and the marzipan. This give the cake a creamy and airy dimension. Additionally, it hides the brown part of the cake, so that it isn't visible through the marzipan.
The cake requires a little more skill and time than e.g. baking a banana bread. The cake doesn't require an oven, since it is no-bake . It also takes up quite some space in the kitchen. If you need to make more than one portion I would recommend being more than one person, since it will be dramatically faster being multiple people rolling, covering, and dipping!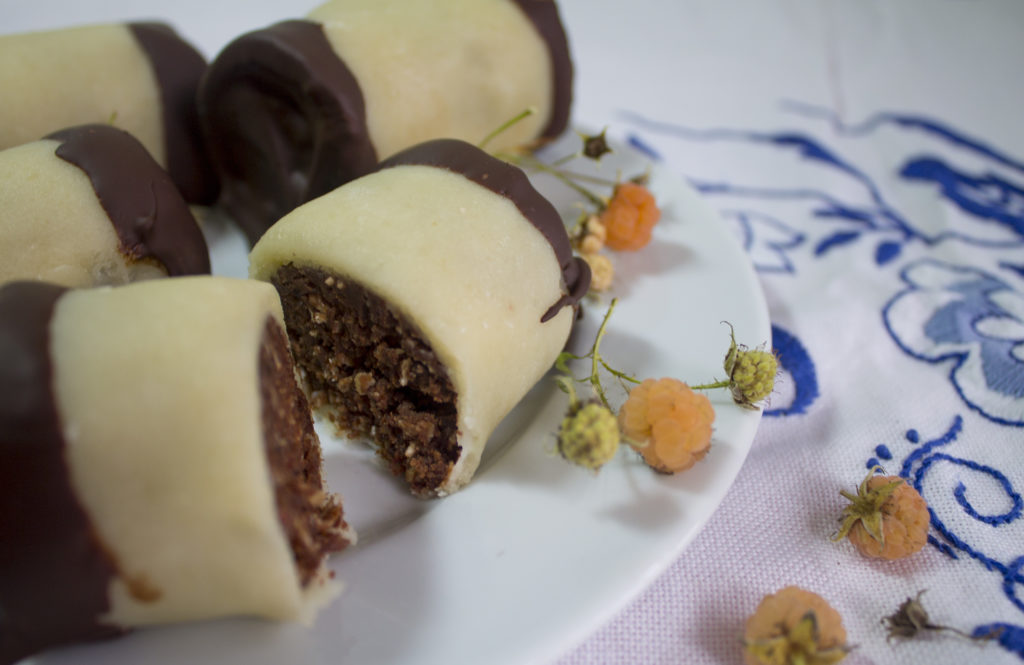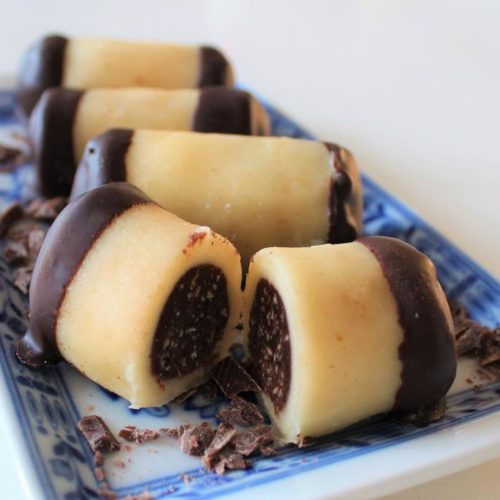 Danish Træstammer
Ingredients
Truffle Filling
50

g

frozen black-berry and/or raspberry

1

pinch

vanilla extract

1-2

tbsp

lemon juice

freshly squeezed

5

tbsp

rasins

50

g

hazelnuts

75

g

dates

50

g

coconut

desiccated

175

g

flour

75

g

oatmeal

225

g

sugar

1

pinch

salt

1 1/2

tbsp

cocoa powder

100

g

dark chocolate

(70% coca)

1/2

dl

heavy whipping cream

150

g

butter

1

tsp

instant coffee

3

tbsp

dark rum
Butter Cream
75

g

butter

room temperature and chopped

125

g

powdered sugar

2

tbsp

hot water

2

tsp

vanilla extract
Marzipan Layer
350

g

marzipan

100

g

powdered sugar

15

g

glucose sirup
Chocolate Decoration
200

g

dark chocolate

(70% coca)
Instructions
Truffle Filling
Combine frozen berries, lemon juice, and vanilla in a saucepan and let boil. Let simmer for a couple of minuts before removing from heat

Blend the nuts in a foodprocessor to a rough flour. Add the raisins, dates (chopped), coconut, flour, oatmeal, sugar, salt, and cocoa

Melt the chocolate and butter in a water bath. When melted, add the whipping cream and coffee and stir till it has an even texture

Combine the chocolate, berries, content in foodprocessor, and rum in a bowl and stir till it has an even texture

Let the dough cool in the fridge while making the butter cream and marzipan layer
Butter Cream
Whisk all the ingredients together in a bowl using an electric whisk til the butter has a thick, airy texture
Marzipan Layer
Knead all the ingredients together on a kitchen table with your hands. You can grate the marzipan before kneading to make it easier
Putting The Cake Together
The truffles are rolled into one or mores longe sausages of 3-4 cm in width

On a piece of baking-sheet, roll the marzipan layer into a thin, rectangular piece using a rolling pin. Sprinkle the marcipan with some powdered sugar if the marzipan sticks to the pin

Cut the marzipan into strips with the same length as the truffle-sausages' and wide enough to reach all the way around the truffle sausages plus a little more. The width of each marzipan strip should be approx. 10.5-14 cm in length depending on the diameter of your truffle sausages

Apply a thin layer of butter cream on top of the marzipan

Each truffle-sausage is placed on a marzipan strip and the marzipan is rolled around the sausage

The long truffle sausages covered in marzipan are now put in the fridge for 30 min – 1 hour until they are cold

The sausages are then cut into several small sausages of 8-10 cm in length

Melt the chocolate (for the chocolate decoration) in a water bath

The cakes' ends are dipped in the melted chocolate and placed on a clean piece of baking paper

Let the cakes cool at room temperature and serve
Notes
The truffle-sausages are easier to cover in marcipan or dip in chocolate if they have cooled in the fridge for a couple of hours or over-night right after they have been rolled into sausages