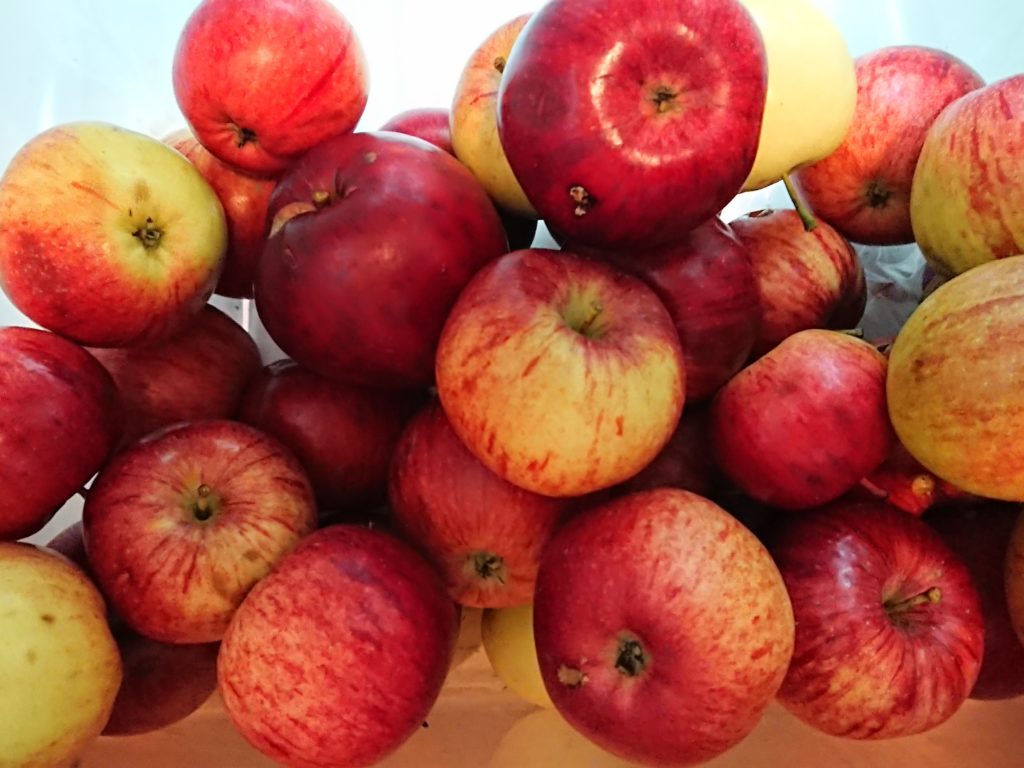 This is a traditional Danish dessert containing layers of cooked apples, breadcrumbs, macroon-crumbles, whipped cream, and blackcurrant jam.
Perfect for autumn!
I really love how the color of these turned out by using bright red apples and not peeling them! Which also provides a nice texture.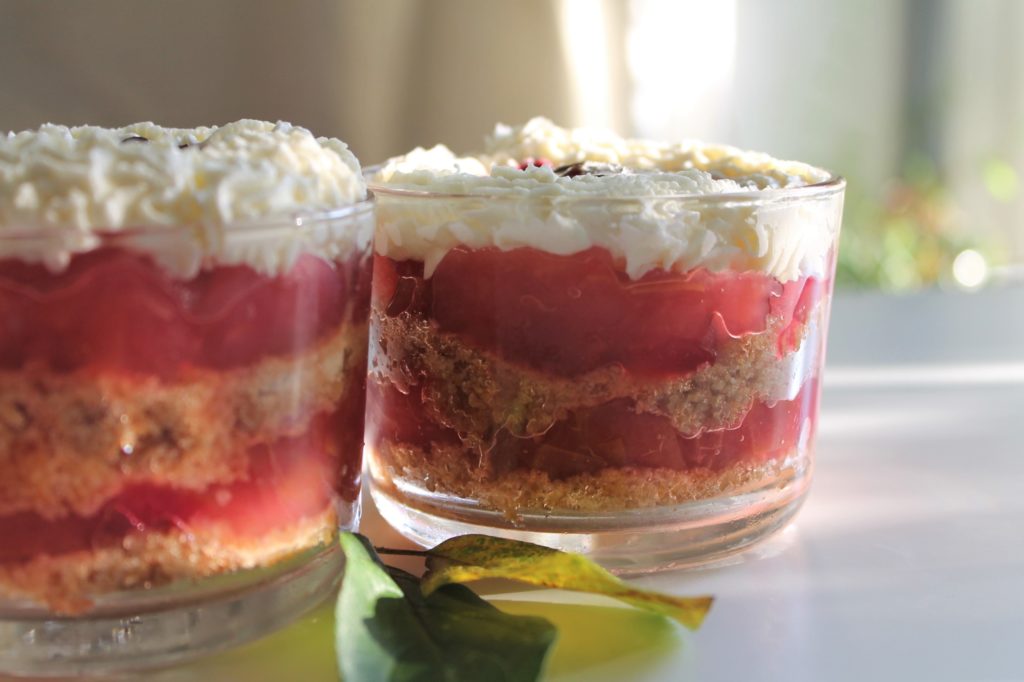 The macroon-crumbles are made from scratch and not by using store-bought macroons, which just makes them taste sooo much better. They contain almond flour, which you can either buy or make by crushing whole almonds in a foodprocessor.
The macroon-crumbles are easiest to make in a saucepan. However, you can also make them in the oven by combining the ingrediens and putting them in a piping bag and poping out macroons at the size of coins (don't make them too large! and make sure there is plenty of room between them). Bake them at 150 degrees C (hot air oven) for 25 min. Let cool completly before crunching them in a plasticbag with a rolling pin.
Instead of making the macaroon-crumbs from skratch, you can also buy about 80 g of macaroon, put them in a plasticback, and crush them using a rolling pin.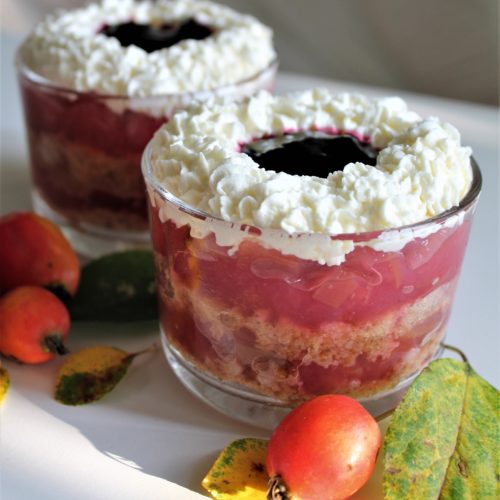 Old-fashioned Danish Apple-cake
Ingredients
Apples
1125

g

apples

1 1/2

dl

water

185

g

sugar

3

tsp

vanilla extract
Breadcrumbs
75

g

breadcrumbs

50

g

sugar

50

g

butter
Macaroon-crumbs
50

g

almond-flour

100

g

sugar

1

egg white
Topping
3

dl

heavy whipping cream

1/2

jar

blackcurrant jam
Instructions
Apples
Rins the apples, remove the stem and core, and chop the apples into pieces of about 1-2 cm

Mix the water and the sugar in a saucepan and heat it till the water has dissolved

Add the apples and the vanilla to the saucepan and close it with a lid. Let it boil at medium heat till tender (about 25 min)

Remove apples from heat and let cool
Breadcrumbs
Mix the breadcrumbs and sugar in a bowl

Add the breadcrumbs to the pan and toast till it turns to crumbs and has a nice golden color- make sure to stir constantly to prevent it from becoming burned

Remove from heat and let cool
Macroon-crumbs
Whisk the almond-flour, sugar, and egg whites in a bowl

Heat the mixture in a saucepan on medium heat, stirring constantly, till it turns to crumbs

Remove from heat and let cool in bowl
Putting the cake together
Add layers of breadcrumbs, makroner, and then apples in a glass bowl or dessert-glasses

Let the cake sit in the fridge for a couple of hours or overnight
Right before serving
Whisk the heavy whipping cream in a bowl till it turns to whipped cream

Serve the whipped cream in a bowl on the side or put it in a piping bag and put it on top of the cake

Serve the jam on the side or put it on top of the cake