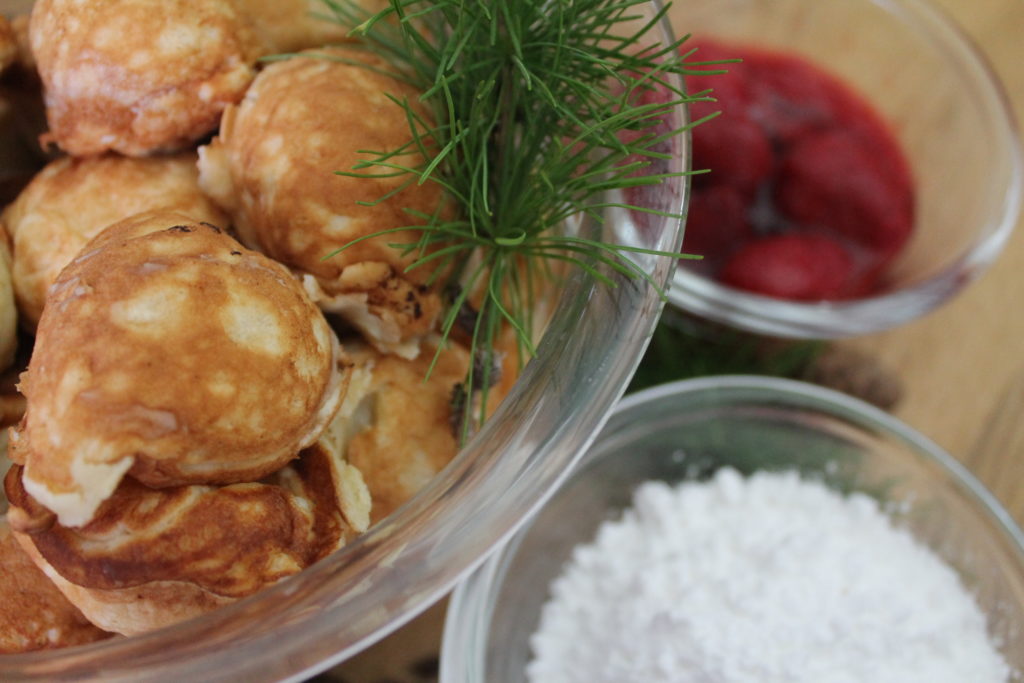 How times fly, already passed second advent! During Christmas each culture has it's own line of traditions and dishes.
In Denmark, we have quite a lot of Christmas-cakes.
One of them is "æbleskiver", which you eat as a dessert during december or at Christmas-lunches.
The name translates to "apple-slice" in English. You eat it by hand or fork – dipping it in strawberry jam and powdered sugar.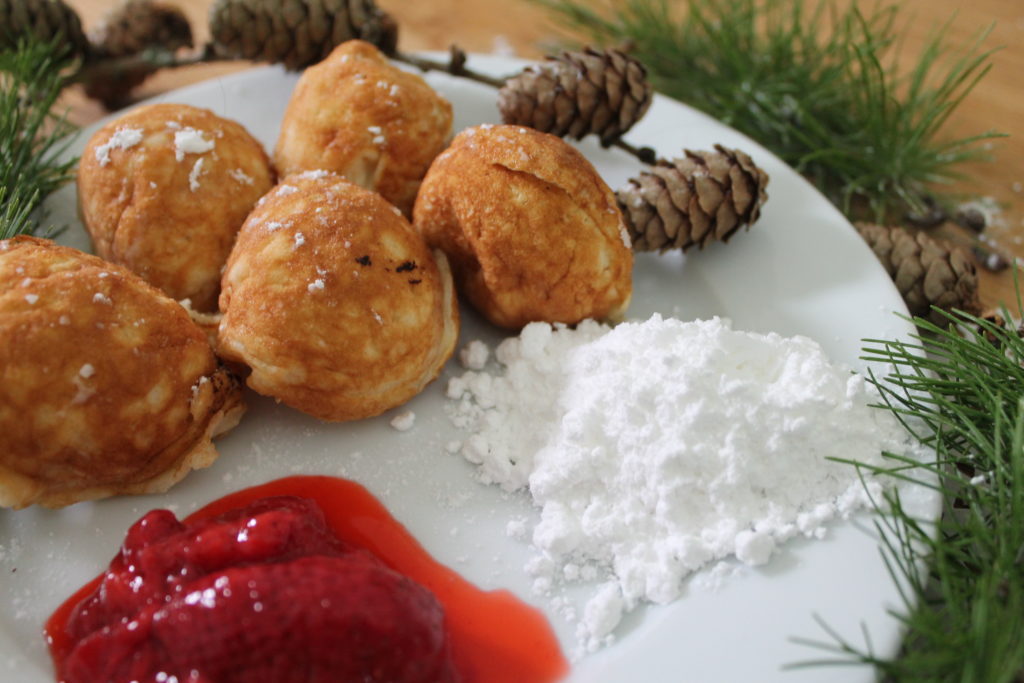 The apple-slice is more or less a pancake-dough made in a "æbleskive"-pan made up of half-circles, which gives the cake it's round shape. In the middle of the dough there is a piece of apple (hence the name). I personally love this part, because it provides a nice texture and sweet and sour taste (if you use sour apples). Many modern recipes, however, has cut this part out! And you can't buy them with apple in stores, either. But no worries – it is part of this recipe!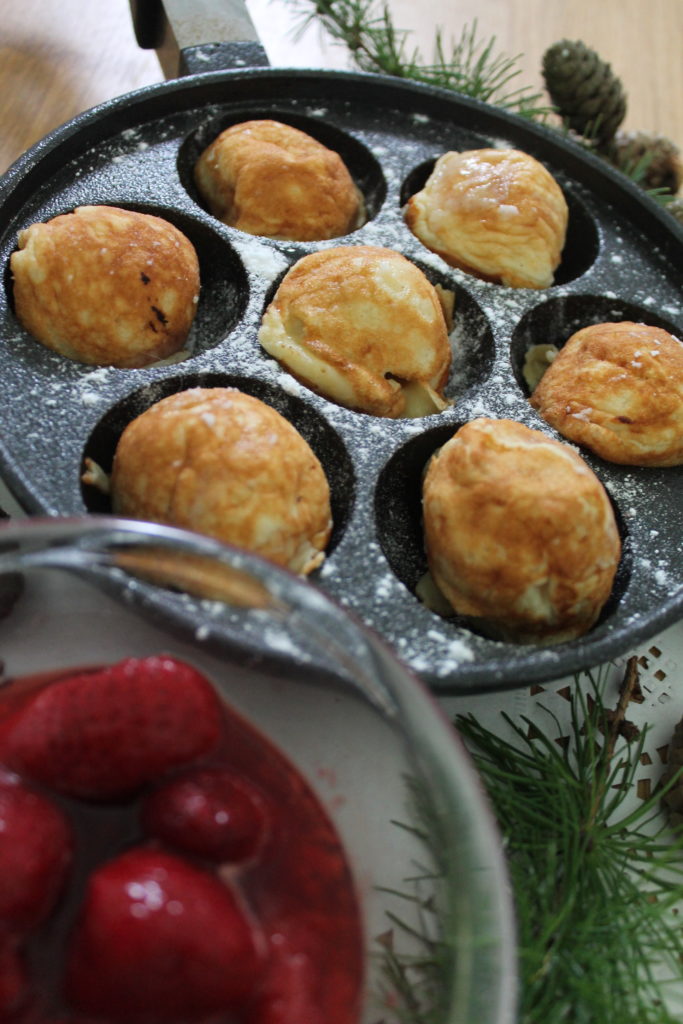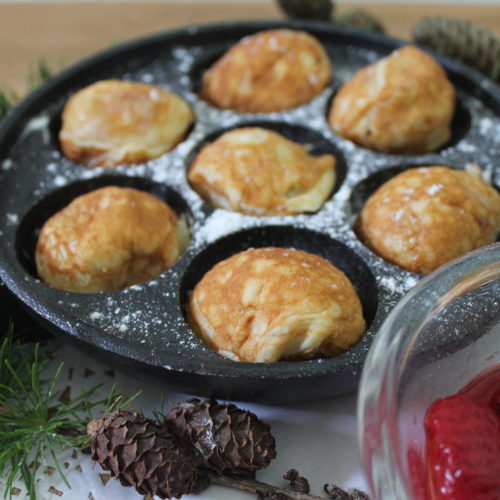 Danish "Æbleskiver"
Ingredients
Æbleskiver
5

dl

buttermilk

3

eggs

1

tsp

lemon juice

freshly squeezed

3

tbsp

sugar

1

tsp

salt

1 1/2

tsp

baking soda

2

tsp

cardamom

230

g

flour

4

(300g)

apples

3/4

dl

water

about 10

g

butter
Strawberry jam
1/2

dl

water

350

g

sugar

500

g

strawberry

3

tbsp

lemon juice

freshly squeezed

3

tsp

vanilla extract

1/2

tsp

liquid atamon
Instructions
Æbleskiver
Whisk together the eggs, buttermilk, and lemon in a bowl

Add the sugar and salt and whisk till even

Add the soda, cardamom, and flour and whisk till there are no clumbs

Peel the apples and cut them into 4 pieces in order to remove the stem and core of the apple

Cut the apples into squares of 1-2 cm in height, length, and width (giving about 16 pieces per apple)

Boil the apples with the water for about 2 1/2 min. Put them in a strainer to remove the water

Add a dash of butter to each hole in the pan. Heat the pan at medium heat

When the pan is hot, add dough so that the hole is 3/4 full, add a piece of apple as well

Flip the "æbleskiver" after about 3 min, when it is golden brown underneath. Use a knitting needle or fork. Make sure that it gets enough so that the apples are tender

Remove the "æbleskiver" from the heat when they are golden brown on both sides. And instruction 7-9 is repeated.
Strawberry jam
Combine water and sugar in a saucepan and heat it till the sugar has dissolved

Rinse and remove the stem and leaf of the strawberries

Add the strawberries, lemon, and vanilla to the saucepan

Let boil for 20-30 min with a lid on the saucepan on low heat

Add atamon and put in jars (about 5 dl)

Eat the æbleskiver with jam and powdered sugar