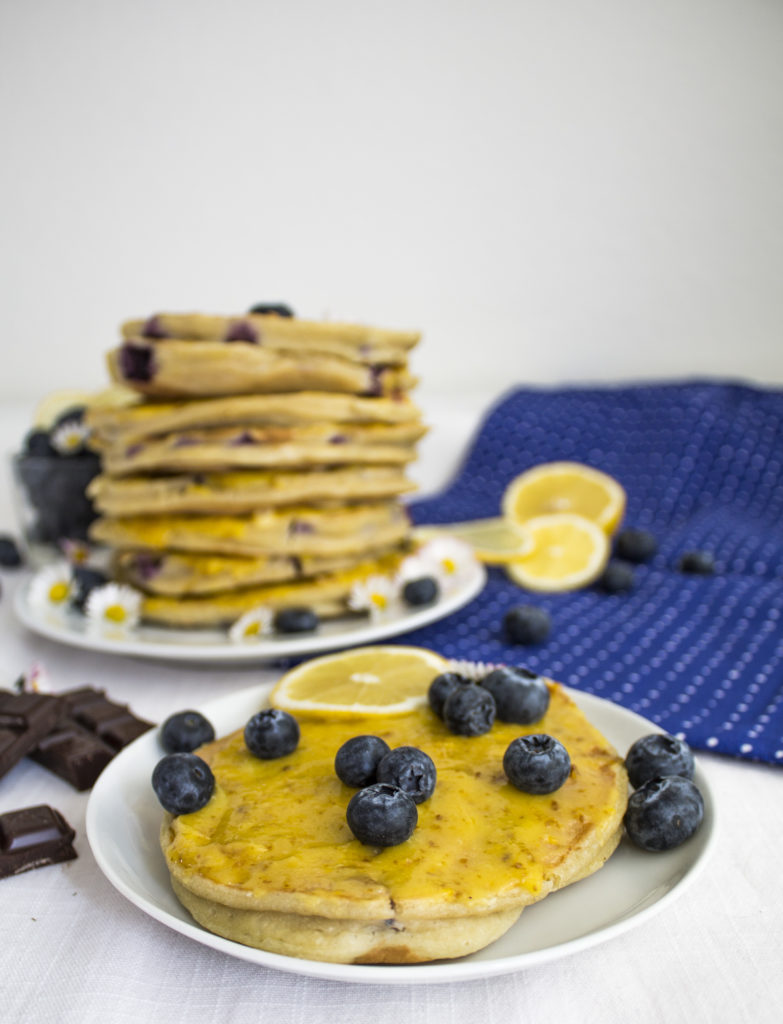 Who's ready for pancakes on a Saturday morning?
Here's my take on the American style blueberry pancakes. The goal has been to make a thick and small pancake which does not end up tasking like flour and being way too dry and cake-like, which I find many American pancakes to be. However, I'm not sure whether that is how American pancakes are supposed to be and it's just my "Danish" taste, that prefers something different. Anyways, I find this version of American pancakes to be really good.
The pancakes are served with a thin layer of lemon curd and chocolate sauce in order to bring out a bit more taste.
These pictures were really fun to take, even though it made a bit of a mess and some of the chocolate sauce ended up all over the white tablecloth, thankfully not something a washing machine can't fix!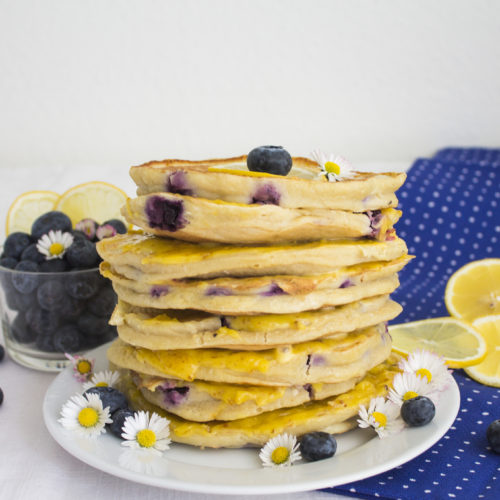 American Blueberry Pancakes
Ingredients
Pancakes
1

L

whole milk

6

eggs

2

tbsp

sugar

7

tbsp

orange juice

freshly squeezed from about 1 orange

4

tsp

baking powder

1

pinch of

salt

350

g

flour

300

g

Blueberries

A bit of butter for the pan
Lemon Curd
3

eggs

¾

dl

lemon juice

freshly squeezed from about 2 lemons

¾

tsp

lemon zest

freshly grated from about 1 lemon

130

g

sugar

50

g

butter

3

tsp

vanilla extract
Chocolate sauce
3

dl

heavy whipping cream

225

g

dark chocolate
Instructions
Pancakes
In a large bowl, whisk together milk, eggs, and orange juice

In another bowl, combine flour, salt, and baking powder

Add the flour-mixture to the bowl with milk little by little. Whisk between each portion to avoid lumps

Grease the pan with a pinch of butter

When the pan is warm, add a soup spoon full of batter

Turn the pancake over after a couple of minuts when it has become brown on the bottom

Remove the pancakes when it has become brown on the other side as well

Repeat making pancakes till there is no more batter
Lemon Curd
Whisk the lemon juice, eggs, vanilla, and sugar together in a saucepan at medium heat (don't let it boil)

Whisk in about 2 minuts before adding the butter and lemon zest. Continue whisking till the curd begins to thicken (about 10-15 min)

Pour the lemon curd into jars (of about 3 dl)
Chocolate sauce
! This should be made just before serving

Bring the heavy creme to a boil in a saucepan while stiring

Remove the saucepan from the heat and add the chocolate – still stiring

Put the sauce in a sauceboat and serve with pancake and lemon curd