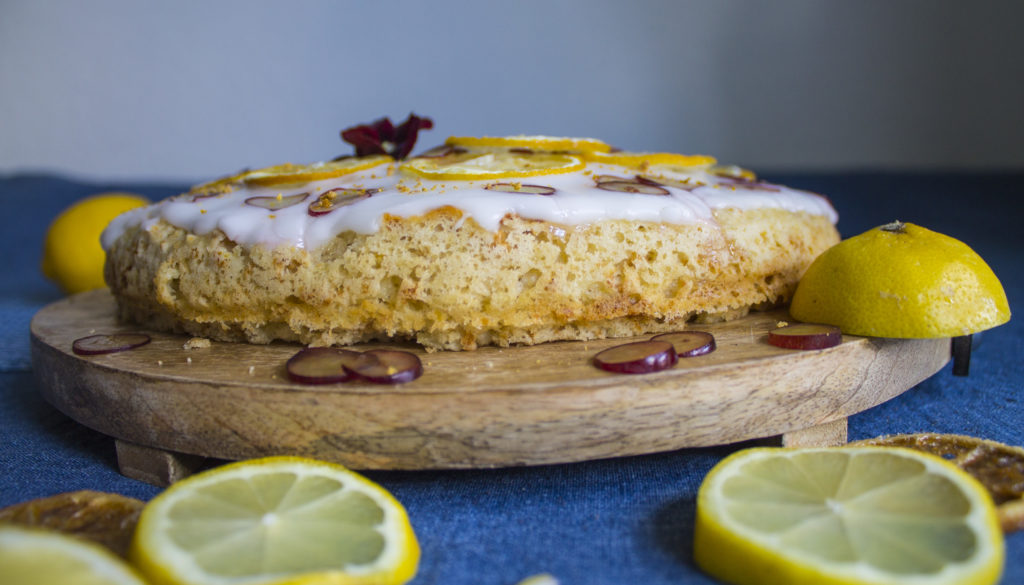 Recipe for the Danish classic "Lemon Moon". The nice yellow colors go so well with the current season of Easter. However, this recipe is slightly different from the original, since it's vegan and contains no butter, eggs, milk, etc. In addition, it is not as sweet as those found in supermarkets, as there are only 3 tablespoons of sugar in the cake itself. Instead, it has a sour taste of lemon. Of course, there is still a lot of sugar in the royal icing. In addition, there is no vegan butter, but instead a bit of grapeseed oil.
Instead of eggs, this recipe uses applesauce made from scratch, as well as some extra baking powder.
If you want to give the lemon cake a slightly more "advanced" taste, you can choose not to mash the apples as thoroughly and thereby preserving some larger pieces of apple providing a hint of apple.
The recipe also includes a recipe for sugar glazed lemon slices, which are used for decoration. However, these can easily be omitted without having a major impact on the taste of the cake.
The purple circles placed on top of the cake is finely cut grapes. If you want to decorate using these, make sure to put them on the cake right before serving, since they will quickly start to dry, leaving wet spots on the icing or dividing the icing. Which I learned after doing so myself (which is probably also visible from the pictures).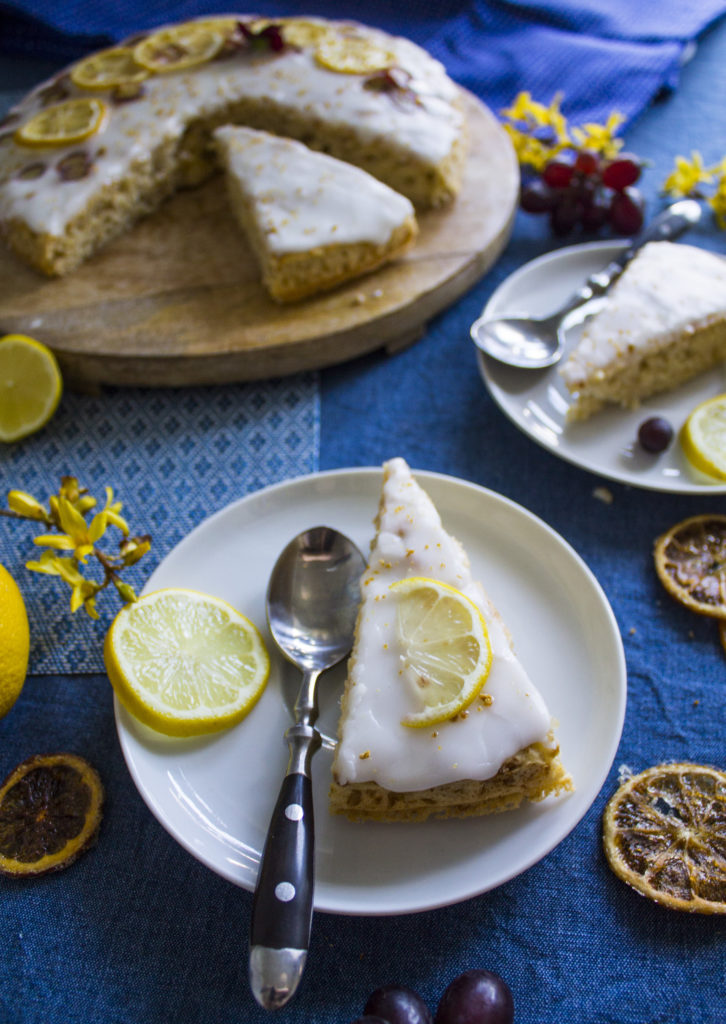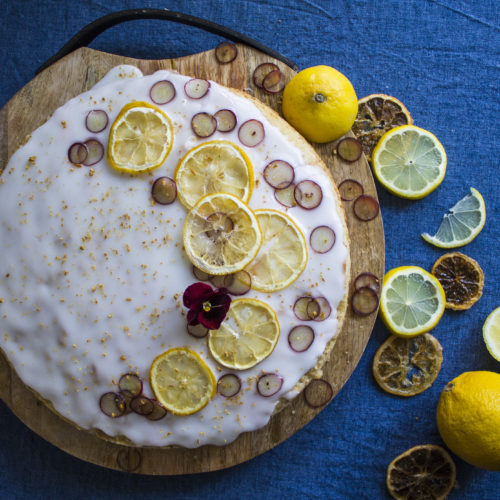 Vegan Lemon Cake
Equipment
Springform pan (25 cm in diameter)
Ingredients
Lemon Cake
3

apples

3

tbsp

sugar

4

tbsp

water

300

g

flour

3

tsp

baking powder

4

tsp

baking soda

4

tbsp

grapeseed oil

2

tbsp

lemon zest

from 1 fresh lemon

2 ½

dl

lemon juice

freshly squeezed from 3-4 lemons
Lemon Royal Icing
200

g

powdered sugar

4

tbsp

lemon juice

freshly squeezed from 1 lemon
Instructions
Sugar Glazed Lemon – make a day in advance
Cut the lemon into thin slices

Heat the glucose syrup in a small saucepan

Place the lemon slices in the saucepan and simmer for about 30 minutes at low heat without a lid. There might not be enough room in the saucepan to fit all lemon slices

Pick up the slices with a fork and place them on a baking sheet lined with baking paper

Add the rest of the slices to the the saucepan if they couldn't all be there the first time and simmer for 30 min

Dry the slices in the oven at 50°C for 4 ½ hours and then allow to rest / dry for about 24 hours
Lemon Cake
Peel the apples and cut them into smaller pieces

Put apple, sugar, and water in a saucepan and cook under lid on medium heat until the apples are tender

Take the apples off the heat and use a hand blender to mash them into apple sauce

In a large bowl, mix flour, baking powder, and baking soda

Whip the oil with the flour with a whisk – this might create small lumps

Lubricate the spring form pan with a bit of vegetable oil or vegetable butter

Zest the lemon using a grater with fine holes

Press lemon juice of 3-4 lemons (till there is 2 ½ dl)

Add apple, lemon zest, and lemon juice to the flour and stir it quickly together. The dough will already start to rise due to the lemon juice (which naturally contains acid)

Put the dough in the springform pan

Bake the cake in the oven at 175° C for 25-30 minutes

Remove the cake from the springform pan and place it on a platter
Lemon Royal Icing
Press lemon juice of one lemon

Mix 4 tablespoons lemon juice and powdered sugar in a bowl

Spread the icing over the cake

Decorate the cake with the glazed lemon slices

Let the icing dry before serving