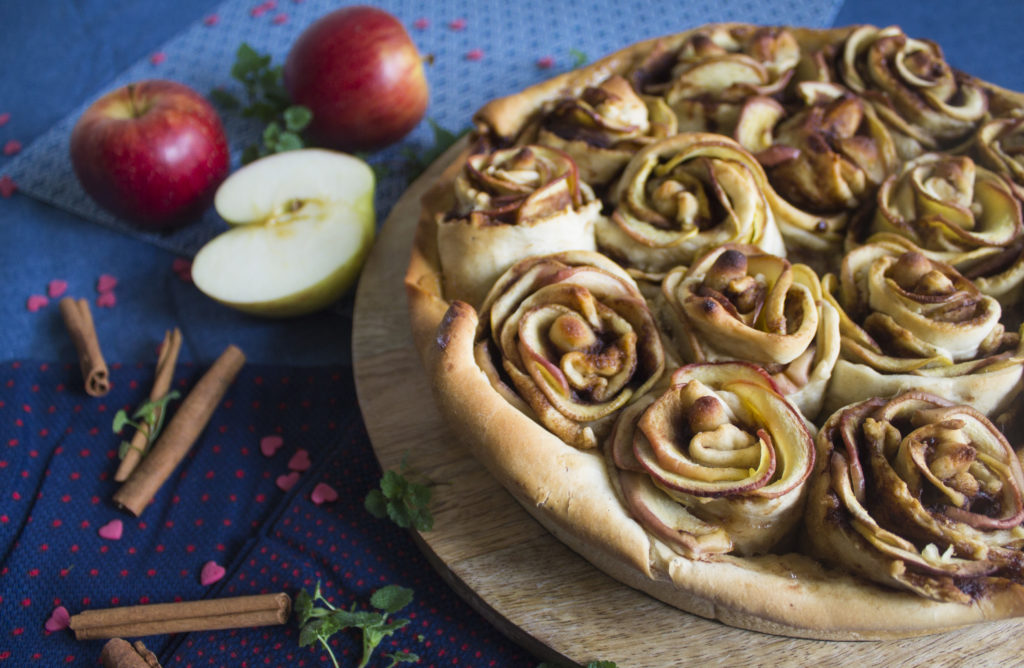 This is an attempt to give the otherwise slightly rustic Danish Dagmar tart a more feminine look. The recipe is inspired by the classic Danish Dagmar tart and apple roses. In addition, it is vegan. My initial plan was to make it before Valentines Day since it looks like a bouquet of roses. Unfortunately, I did not quite finish the recipe in time.
The cake is a bit time consuming to make. However, it is not that difficult. Only the roses require a little know-how. But luckily it will taste good no matter how the roses look!
It was a little hard to explain how to make the apple flowers through text, so I've attached a few drawings. I hope they make sense. If not, this really great video also explains it: https://www.youtube.com/watch?v=QKOla0-aW5o&t=409s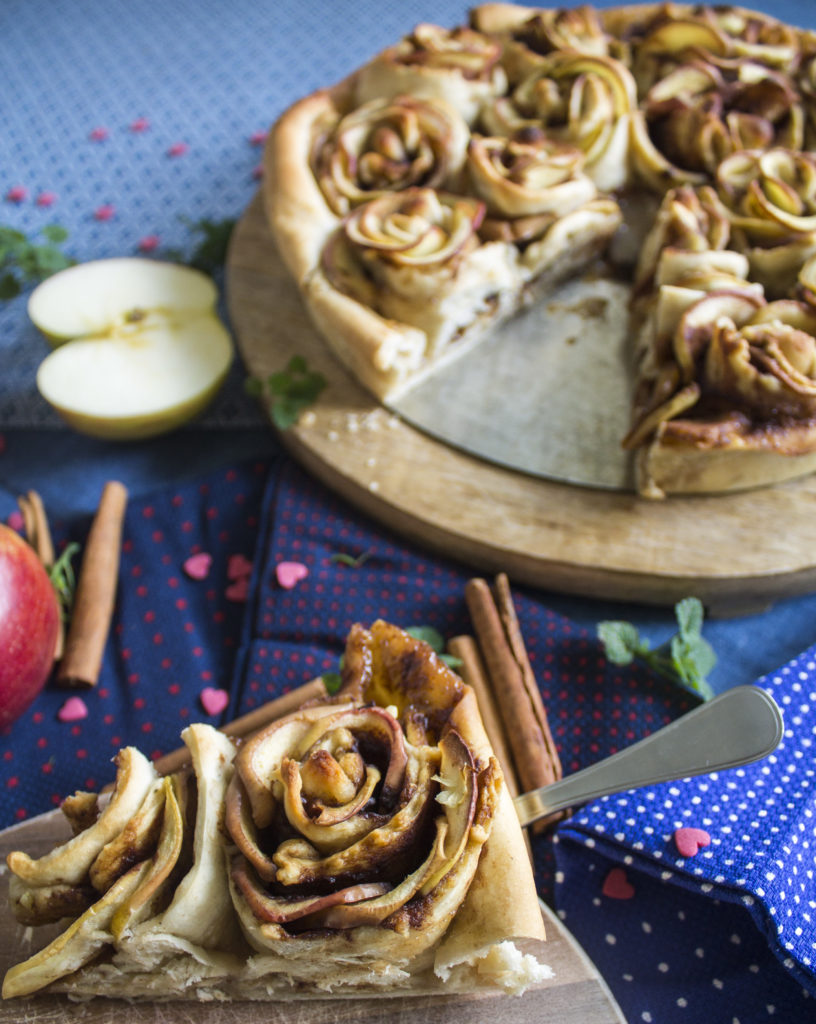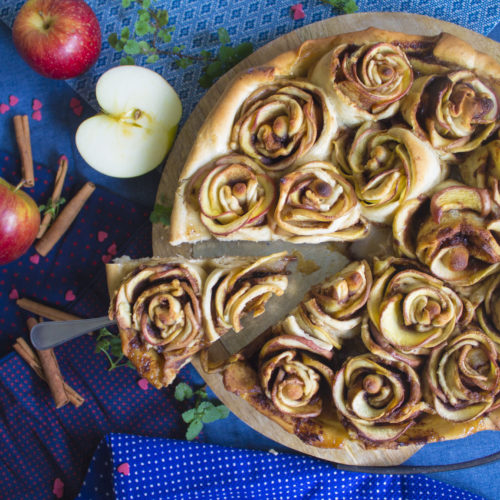 Vegan Apple Dagmar Tart
Equipment
Springform pan (25 cm in diameter)
Ingredients
Dough
1 1/2

dl

vegan milk

e.g. almond milk

25

g

fresh yeast

1 1/2

tbsp

sugar

1

pinch

salt

2

tsp

cardamom

3

tsp

corn starch

75

g

vegan butter

250

g

flour

vegan butter to lubricate the springform pan
Sugar Filling
100

g

vegan butter

150

g

brown sugar

2

tbsp

cinnamon
Vanilla Cream
4

dl

vegan milk

e.g. almond milk

4

tbsp

coconut milk

2

tbsp

sugar

4

tsp

corn starch

2

tsp

vanilla extract
Instructions
Dough
Heat the milk until it is finger-warm

Mix milk and yeast in a large bowl

Add sugar, salt, cardamom, and cornstarch and stir

Add half the flour to the dough and stir till even

Melt the butter and pour it in the dough – add the rest of the flour as well

Knead the dough till it is smooth

Put the dough back in the bowl and cover it with a dish towel. Let the dough rise for 1 hour – make the vanilla cream and sugar filling while waiting
Sugar Filling
Melt the butter in a saucepan and mix it with the other ingredients

Pour the sugar filling into a cold bowl and let it cool in the refrigerator for about 1 hour. It should preferably be completely cold before using it in the apple roses.
Vanilla Cream
Mix the ingredients together in a saucepan

Cook at medium heat while constantly stirring until the cream has thickened. This will take about 45 min.

Remove the saucepan from the heat and put in a cold bowl in the refrigerator. Stir the cream once in a while to avoid lumps. The cream needs to be at room temperature before adding on top of the cake.
Bottom Layer
Lubricate the springform with a bit of vegan butter

Roll 1/3 of the dough to a circle of the same size as the springform pan when the dough has been resting for an hour

Put the rolled dough in the springform pan

Pour the vanilla cream on top of the dough in the springform pan
Apple Roses
Roll the rest of the dough as thinly as possible and spread the sugar filling evenly on top of the dough

The apples are cut in half and the kernels, stems and dustbags/beaker (black tip at the bottom of the apple) are removed. Cut the apples into thin slices.

Boil the apples in some water until the apples are soft (about 2 min)

Strain the water from the apples and place them on a towel in order to dry and cool

The dough is cut into 15 strips, each with a with of 5 cm

Placed the apple slices on the strips one at a time, when the pieces of apple are at room temperature. Only half of the apple slice is to be on the dough. The other half (with the peel) is to be peeking out. The next piece of apple is placed half on top of the previous slice.

The marzipan is rolled out to 15 strips at the height of the apple pieces. A strip of marzipan is placed on each end of the rose strip

The dough is folded over the apples and marzipan so that only half of the pieces of apple (the part with peel) are visible.

The apple strips are rolled together into roses. Start rolling at the end with marzipan so that the marzipan will be in the middle.

The apple roses are put on the bottom layer: One ring with 10 apple roses along the edge of the springform pan and one ring with 5 apple roses in the middle
Baking
Bake the cake at 180 ° C on the bottom shelf for about 45 minutes

Let cool on a baking rack